MONDAY 15 FEBRUARY, 2010 |
---
SunPower Announces SunRay Acquisition
by Energy Matters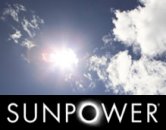 SunPower Corp. (Nasdaq: SPWRA, SPWRB) announced on Friday it will acquire SunRay Renewable Energy, a leading European solar farm developer.
When the transaction is finalised, SunPower will acquire solar photovoltaic (PV) projects exceeding 1,200 megawatts (MW) in Italy, France, Israel, Spain, the United Kingdom and Greece that are currently in SunRay's pipeline.
.
SunPower says its acquisition is consistent with the company's long-term company strategy to develop a strong brand and complements its European engineering, procurement and construction business.
SunRay is the company behind largest solar photovoltaic based power generation plant financed in 2009, the 24 MW Montalto power plant in Italy, which was constructed using
SunPower solar panels
.
"SunRay has a strong pipeline in Italy, with several power plants already permitted for delivery in 2010," said Gian Maria Ferrero, vice president of SunPower's Europe, Middle East and Africa utilities and power plants business unit. "Italy has demonstrated sustainable, strong growth in both rooftop and ground-mounted solar systems, bringing new jobs to the market and private investment into new power resources without the need for major new transmission investment."
The total value for the acquisition is approximately USD$ 277 million, including $235 million in cash and $42 million in a letter of credit and promissory notes. SunPower says it has sufficient cash to close the transaction and does not intend to raise equity capital to finance the acquisition.
SunPower delivers high-efficiency solar power solutions for residential and commercial applications.
Sunpower solar panels
are up to 50% more efficient than competitor brands with a small footprint offering more more solar power with less space required.
---
---
---
---
Other news for Monday 15 February, 2010
---
---
---
Return to main renewable energy news section
Other Energy Matters News Services