TUESDAY 16 FEBRUARY, 2010 |
---
Victorian Sustainability Centres Go Solar
by Energy Matters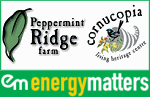 Melbourne, Victoria, February 16, 2010. Located at Tynong North, 75km south-east of Melbourne, Peppermint Ridge Farm has a long history of showcasing sustainability.    
The 8 hectare property has been transformed into a living classroom that demonstrates a sustainable approach to land management and provides educational experiences for schools, universities, private landholders, community groups and local government.   
Not far down the road is the Cornucopia Living Heritage Centre where people can learn about Australia's environmental history and the changing approaches to land management.    
The farm and centre recently added a new green facet to their operations - the acquisition of two 2.94kW grid connected solar power systems, supplied and installed by national solar solutions provider Energy Matters.   
Powered by Sanyo solar panels, the systems combined will generate over 8,000 kilowatt hours of clean energy from the sun each year and will avoid nearly 11 tonnes of electricity related greenhouse gas emissions annually.   
According to Peppermint Ridge Farm and Cornucopia Living Heritage Centre co-proprietor Julie Weatherhead, "Using solar power has been a long term aim of ours as it accords with our values that underpin our business as a sustainable venture. We wanted to take practical action and achieve self sufficiency in terms of our power needs."   
"In addition, we have been running workshops on sustainability since 1996 and we feel the system will add enormously to our popular Sustainability at Home workshop. We find people want to see alternative systems in action in order to get a sense of how they work before deciding to take any action themselves."   
Installed in early February, Julie states the systems, partly subsidised by the Australian Government's Solar Credits rebate, are already performing above and beyond what was anticipated.   
"They have far exceeded our expectations. We did not expect the systems to be able to meet all of our energy needs as a home office and family household with now 4 adults. We have found that we are generating more power than we use and this was a very pleasant surprise. Our electricity meter has been steadily winding backwards every day which means that we should no longer be paying electricity bills - and we are helping with reducing greenhouse gas emissions!"   
According to Energy Matters' Caitlin Apthorpe, under Victoria's feed in tariff program, any surplus electricity generated by the system is exported to the mains grid. The farm will receive a credit or cash payment for that electricity, at a premium rate of 60 cents per kilowatt hour and guaranteed for 15 years.   
With so many providers of solar power now servicing the Australian market, Julie explained why Energy Matters was selected for Peppermint Ridge Farm project.   
"We shopped around before investing in solar power. We found Energy Matters to be the best company to deal with. From the start, their staff have been courteous, prompt in their response to our queries and have provided us with the time we needed to fully consider our options regarding the best systems for our needs. They provided excellent value for money and their website provides detailed information. The installation was arranged quickly and occurred on the dates promised."   
More information regarding Peppermint Ridge Farm and Cornucopia Living Heritage Centre, including sustainability workshop information, can be viewed at
www.peppermintridgefarm.com.au
. Energy Matters range of residential and commercial solar solutions along with rebate information and renewable energy education resources can be viewed at
www.energymatters.com.au
.  
Contact information:  
Peppermint Ridge Farm
Cornucopia Living Heritage Centre 
Julie Weatherhead
(03) 5942 8580
enquiries@peppermintridgefarm.com.au
http://www.peppermintridgefarm.com.au
Energy Matters
Caitlin Apthorpe
PH: 1300 727 151

Caitlin.Apthorpe@energymatters.com.au
http://www.energymatters.com.au
---
---
---
---
Other news for Tuesday 16 February, 2010
---
---
---
Return to main renewable energy news section
Other Energy Matters News Services