TUESDAY 18 MAY, 2010 |
---
Energy Matters Chairman Appointed As Victoria University Chancellor
by Energy Matters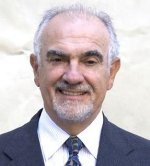 George Pappas, Chairman of national solar solutions provider
Energy Matters
, became Victoria University's fourth Chancellor at a ceremony held at Flemington Racecourse last week.
Mr. Pappas' Chancellorship adds to an already distinguished career in business and the public sector spanning over four decades.
Mr. Pappas has a Bachelor of Economics with First Class Honours from Monash University and an MBA with Distinction from Harvard Business School; the latter gained in 1971. After his Harvard graduation, Mr. Pappas joined Boston Consulting Group (BCG) in Boston, then moved to Tokyo.
Upon his return to Australia in 1979, he co-founded Pappas Carter Evans and Koop (PCEK), which over the next decade became Australia's leading management consultancy.
When PCEK was acquired by BCG in 1990, Mr. Pappas assumed the role of Managing Partner of BCG's Australasian operations and also became a member of its global Executive Committee. Mr. Pappas remains a Senior Advisor to BCG today.
During the period 2003 - 2005; Mr. Pappas acted as Under Secretary in the Department of Premier and Cabinet for the State of Victoria's economic strategy and was also appointed Chairman of the Committee for Melbourne, a role in which he also continues today.
Mr. Pappas has previously been a Member of the Dean's Advisory Board for the Monash Faculty of Business and Economics and Vice-Chairman of the Monash University Medical Foundation.
Mr. Pappas became Chairman of Energy Matters Pty Ltd, in 2007, helping the then-fledgling company to rise up through the ranks of solar providers to become one of Australia's leading suppliers and installers of solar power systems, solar hot waters services and other renewable energy products.
Mr. Pappas is also a Director of the Western Bulldogs Football Club and is Commodore of the Point Leo Boat Club.
According to a statement from Victoria University in regard to Mr. Pappas assuming the Chancellorship role; "Mr Pappas' life experience, business acumen and leadership skills will enable him to act as a role model to the University's students and staff. His passion for education and his commitment to lead in a way that is inclusive and empowering to others will undoubtedly see him become a focal point for Victoria University, helping to build on its values and standing in the wider community."
---
---
---
---
Other news for Tuesday 18 May, 2010
---
---
---
Return to main renewable energy news section
Other Energy Matters News Services