TUESDAY 27 JULY, 2010 |
---
10MW Wind Generator Unveiled
by Energy Matters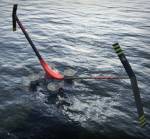 British company Wind Power Limited has unveiled its new offshore wind generator, the 10MW Aerogenerator X, with  twice the power and half the weight of Wind Power's original Aerogenerator design.   
According to the company, it doesn't have same weight constraints as a normal
wind turbine
and the blades do not suffer weight induced fatigue. Aerogenerator X is half the height of an equivalent horizontal axis turbine and its weight is concentrated at the base of the structure. The generator is huge; stretching nearly 275 metres from blade tip to tip.    
The
Guardian reports
each 10MW Aerogenerator X turbine has the potential to generate enough electricity to provide 5,000-10,000 homes - the energy equivalent to 2 million barrels of oil over their 25-year lifetime.  
Theo Bird of
Wind Power Limited
says: "Offshore is the ideal place for wind power but is also an extremely tough environment. The US wind researchers who worked on vertical axis projects have always regarded the technology as great to work with at sea because it can be big, tough and easily managed."   
Wind Power's Aerogenerator project was originally developed in 2005. The first Aerogenerator X units will be constructed  in 2013-14 after two years of testing.   
Several companies are in the race to build a 10MW wind powered generator. According to Wikipedia, the world's largest turbine is currently the Enercon E-126, with a rated capacity of 7.58 MW, an overall height of 198 m and a diameter of 126 m.    
Image: 10MW Aerogenerator X ©2010 Wind Power Limited and Grimshaw
---
---
---
---
Other news for Tuesday 27 July, 2010
---
---
---
Return to main renewable energy news section
Other Energy Matters News Services