An even more environmentally friendly solar panel! With an industry leading energy payback time of one year, REC Solar Peak Energy Panels are a popular choice for solar power systems in Europe and increasingly being installed on Australian rooftops - and for very good reason.
NEWS! REC Peak Energy modules recently underwent potential-induced degradation (PID) resistance testing (designed to damage panels) - with impressive results!
The REC Peak Energy solar panel series were also nominated for 2010's coveted Intersolar Photovoltaics Award and won the Solar Industry Award for Module Innovation, presented by Solar PV Management Magazine, in August 2010. A year long performance ratio test in 2009 carried out by the respected Fraunhofer Institute in Germany placed REC solar panels ahead of two leading Chinese and European brands.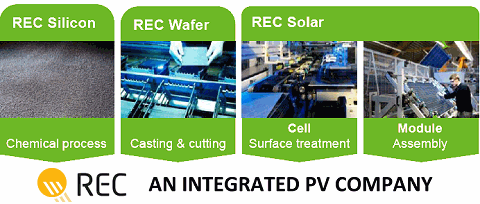 REC Solar panels deliver more power per square meter thanks to a number of design improvements, including the introduction of three bus bars and superior contact between the cell and metal fingers, boosting the electrical flow. Special glass etching and anti-reflective coating used by REC also improves the power output of the Peak Energy Series in all sunlight conditions. Using REC solar panels, you can make better use of your valuable rooftop real estate!
REC solar panels display temperature ratings that are best-in-class. In typical polycrystalline solar modules, the rate of degradation is approximately 0.5% per degree Celsius for temperatures above 25C. REC have decreased this to 0.4%/C - ahead of the biggest names in the industry.
This feature is one of the many stand-out benefits of REC solar panels in a country such as Australia where temperatures are often above 25C.
REC also features positive watt class rating, meaning the nameplate wattage is the absolute minimum. REC modules can be up to 5 watts more than the rated power.
Looking to buy a REC-based solar power system? Get an instant online solar power quote or contact our friendly team on 1300 727 151 for a tailored REC solar panel based system. If you're just wanting to buy REC solar panels on their own, view our range of modules below.

Energy Matters was the first company to offer REC solar panels for the Australian home solar power market and is a REC Platinum Partner - the only company in the entire Asia Pacific region to achieve that standing.

Energy Matters was also Australia's first accredited REC Solar Professional and is able to offer an extra 2 years product warranty on REC solar panels we install!