Have a web site or blog related to green living or home improvement*? Help Australians cut household greenhouse gas emissions and save thousands on their electricity bills by joining Australia's rooftop solar power revolution – and make money by doing so!
We'll pay you $100 – $150 commission per referred sale of any grid connected solar power system!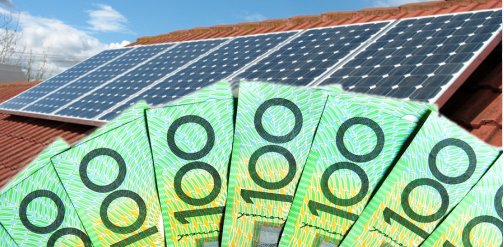 How our solar power affiliate program works
We provide you with materials for promoting Energy Matters along with special links that track the visitors you refer to us – when those visitors buy a solar power system from us, you'll be credited with having referred the sale. Refer 1-3 sales in a month and you'll receive $100 for each. Refer 4 – 6 sales and you'll get $125 for each. Refer 7 or more sales in a month and receive a whopping $150 for each sale!
Triple redundancy tracking
We understand sales leaks are the bane of affiliate marketers. Our platform offers triple redundancy tracking – IP, cookies and sessions. Cookie duration is 10 years, so if you send visitors to the Energy Matters web site and they don't buy a solar power system immediately, when they return to purchase you will still be credited with the commission. Additionally, we have extra checks in place so that if the person makes payment over the phone or even by mail, you'll still be credited with the sale!
We follow up on all leads
We consider the traffic you send us to be valuable – anyone who submits for an online quote for solar power, we follow up with. We have a team of dedicated sales people who are passionate about solar power and any enquiries are attended to as soon as possible.
Rapid payments
We pay commissions by the end of the first week of each month for finalised sales that have been confirmed the month before.
Banners, articles and links
We provide professionally designed fast loading banners, text links, articles and all the resources you'll need to make the most of your participation in our solar power partner program. If you need something specific, we'll do our best to provide you with what you want.
Dedicated affiliate partner manager
Energy Matters has an affiliate manager with over 10 years experience in online affiliate marketing overseeing our program – expert advice on how you can best promote Energy Matters (and boost your commissions) is only an email away!
Reputable company
Energy Matters is one of Australia's leading solar power companies and has installed thousands of systems across our nation. We've grown due to our commitment to quality and focus on providing superior customer service. Energy Matters is a multi-award winner, including the Melbourne Awards and Australian Business Awards. We were also a finalist in the Telstra People's Choice Awards in 2011.
Get started!
If you have a related web site or blog (energy, home improvements, environment etc.) that attracts Australian traffic – we want you! Sign up now – it only takes a minute to do – our affiliate manager will review your application within one working day.
Questions?
If you have any questions about our partner program, email us at leadpartner.au@flex.com
* Please note, in order to be considered for our program, you must have your own relevant and publicly accessible web site and be promoting Energy Matters from that site.