There are now around 6.7 million households with air conditioners installed in Australia, compared to only 1.9 million in 1990 – and solar power systems are helping to alleviate the strain the comfort we demand places on electricity networks.
Approximately a quarter of the investment by electricity networks – eleven billion dollars – has gone towards constructing capacity to cope with supplying power to all this air-conditioning on a handful of days each year. A 2kW air conditioner may only cost around $1500 to purchase, but imposes costs on the energy system of up to $7000.
While there may be 6.7 million air-conditioned households across the nation, the number of units is significantly higher as some homes have multiple installations.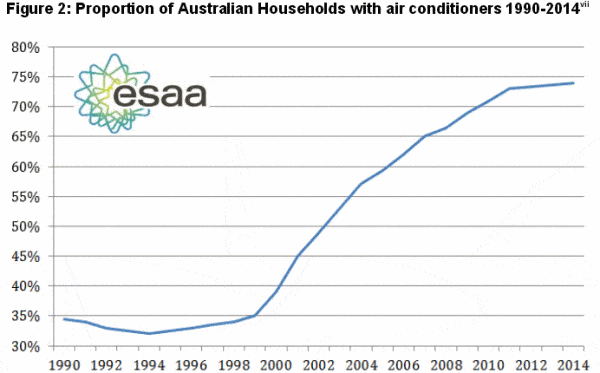 An information sheet recently released by the Energy Supply Association of Australia (ESAA) states that on a typical January day, operational demand in Victoria reaches around 6,643MW. When heat waves hit, this already high level goes through the roof. For example, on January 29, 2009, operational demand reached 10,576 MW.
Another sizzling day was on January 16, 2014 when demand reached 10,307 MW.
But why was it less in 2014 given there would have been substantial growth in air-conditioners between 2009 and 2012?
Part of the answer has to do with solar panels.
During the 2014 heat event, solar accounted for around 4.5 per cent of generation during the time of peak demand in SA and 2.4 per cent in Victoria.
"This means total peak electricity demand in both states was almost certainly significantly higher in January 2014 than the all-time record, but the effect of increased penetration of solar was to keep demand below the levels of demand set in 2009," says the ESAA.
Not only did solar power help lighten the load on electricity infrastructure, it did so incredibly cheaply too. Peak power plants supply electricity at short notice; but the electricity generated is very expensive, costing  up to $12,500 per megawatt-hour – $12.50 per kilowatt-hour wholesale.
The solar revolution is also changing the timing of peak demand; particularly in South Australia. While Queensland has the most solar capacity installed, South Australia has the highest penetration rate of solar panels in Australia, with a quarter of the state's homes having solar panels.
In South Australia, peak demand time is being pushed deeper into the evening. Over the last couple of years, peak demand has shifted from 5-5.30pm to 6:00 PM and 7 PM respectively.
ESAA's Heatwaves And Electricity Supply factsheet can be viewed here (PDF). The ESAA is the peak industry body representing the stationary energy sector in Australia.