For many, long term solar panel performance is a key consideration when deciding on the right system to install.
REC Alpha Series is made with longevity in mind. Where conventional panels only generate 349.9 MWh in 25 years, REC Alpha Series panels generate 452.7 MWh — that's a 29.4% higher energy yield.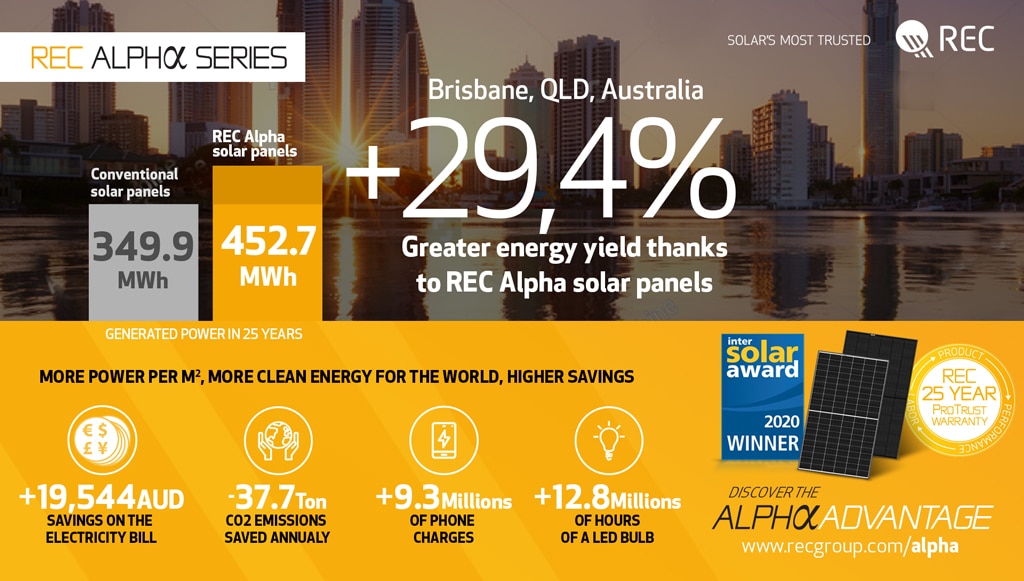 They also have a maximum annual power degradation of 0.25%, leading to a final value of 92% after 25 years, making it the ideal solar panel for high energy generation over its entire working lifetime. 
The benefits of the REC Alpha Advantage
Whether it's a commercial or residential install, those who choose REC panels will receive the full REC Alpha Advantage. The Alpha Series delivers:
Approximately $19,554 AUD savings on energy bills over 25 years
7 tonnes of C0² emissions saved annually
Generate enough solar energy for 9.3 million phone charges and 12.8 million hours of an LED light bulb.
REC Alpha Series also comes with the industry-leading REC ProTrust Warranty. This covers a period of 25 years under a product, performance and labour warranty, providing business and home owners with peace of mind that their solar panels are in it for the long haul.
To learn more about installing the REC Alpha Series, visit the website here.