While solar powered tractors aren't quite ready for prime time in Australia; their day is coming and could have a major impact on farming in the future.
Tractors are an absolute essential on a farm, but they can be emissions spewing monsters with other drawbacks. While even just a few years ago the idea of a practical electric tractor may have been a pipe dream; the combination of cheap solar panels and the evolution of lithium batteries and other associated technologies are changing everything.
The following are several examples of some of the progress in developing electric tractors that can be powered either directly or indirectly by the sun.
First up, there's this directly solar powered beast that is a result of the efforts of a "MacGyver" tinkerer.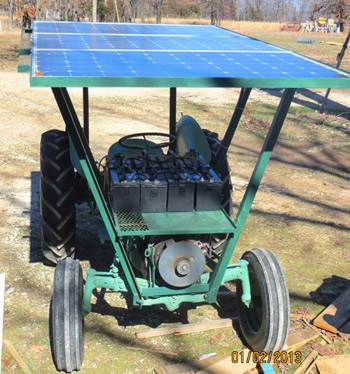 Image source: Mother Earth News
This machine is based on a 1950 Ford 8N, which featured the first three-point hitch system on American-made tractors. The DC electric motor is powered by a battery bank consisting of twelve 250-amp standard deep-cycle batteries. Three 240-watt solar panels and a Morningstar 45 amp charge controller deliver the charge.
All up, the tractor cost around USD $4,100 – not including the many hours of blood, sweat and tears that must have gone into building it of course. It requires from 8-10 hours of sunlight for a total recharge; but as it is only used for a couple of hours at a time, suits its owners well. You can read more about how this solar powered tractor was built on Mother Earth News.
Next is Steve Heckeroth's Model 12 electric tractor. Rated at 20 horsepower, Mr Heckeroth says it is comparable to a 40 hp diesel or a 60hp petrol tractor. While not directly powered by the sun, it is recharged via an 8kW rooftop solar power system that also supplies all the power needs for the farm, including his electric car. Most farms have extensive shedding; offering the perfect platform for commercial scale solar power systems.
An Australian electric tractor concept touted to be a game changer is the AgBot. Instead of having a single large tractor, farms of the future may have a fleet of autonomous smaller tractors completing various tasks.
Small tractors also have an advantage of reducing soil compaction and unlike their larger counterparts, can be used in wet conditions without creating as much damage (or getting bogged). The ability to work just after rain when weeds are beginning to sprout can translate to less herbicide being needed.
The AgBot is being developed by Queensland University of Technology and is part of the SwarmFarm project.