Google has acquired the former Hemlock Semiconductor site in Clarksville, Tennessee, which it will transform into a data center run on 100% renewable energy.
According to Tennessee Gov. Bill Haslam's office, Google plans to invest USD $600 million in the project; which will be the company's eighth U.S. data center and 15th globally.
The facility will be powered 100 percent by renewable energy through an arrangement with the Tennessee Valley Authority (TVA); which will see Google scouting for new renewable energy projects and working with TVA to bring the clean power onto the mains grid.
Google is the world's largest corporate energy purchaser and to date has signed contracts for more than 2 gigawatts of renewable energy supply; which will be applied to offset electricity used across its data centers. The giant of search – and lots of other things these days – has an ultimate goal of powering all its operations with 100% renewables.
The company says it will be able to re-use much of the existing infrastructure at  Clarksville and will recycle and re-design what it can't.
"Based on our assessments, this site will be able to house new technologies we're currently testing in research & development, which would make this data center the most technologically advanced in the world," said Joe Kava, VP, Data Center Operations.
Google states its facilities use only 50% of the energy of most other data centers.
"In addition to reducing our impact on the environment, our efficient data center designs have saved us over a billion dollars to date."
Earlier this month, Google also announced agreements that will add an additional 842 megawatts of wind and solar power based renewable energy capacity to power its data centers.
On a related and lighter note, Google appears to be the only company in the world that utilises Stormtroopers in data centers as guards.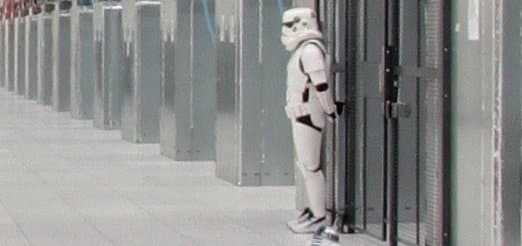 Taking all its operations into account, 37% of power used by Google is from renewable sources, with the remaining non-renewable electricity neutralized by carbon offset projects. The company says through its various renewable energy purchases and other offsets, its carbon footprint is zero.
The company has also poured $2.5 billion into 22 large-scale renewable energy projects all over the world over the last five years.