Australian solar and renewable energy enthusiasts recently received some exciting news, as Italian inverter manufacturer FIMER unveiled its new 'Power' platform of high-power solar inverters and a high-capacity battery storage system. The new products are headed to the country next year and were showcased at Intersolar Europe last week.
FIMER's three new offerings include the FIMER PowerUNO and PowerTRIO inverters, which range from 2kW to 8.5kW in power options – single phase or three phase – and their ground-breaking modular battery storage system called the Power X. Claiming to be the quickest and easiest-to-install solutions on the market, the products were designed to make an installer's job as easy as possible so they can manage the influx of demand.
FIMER PowerUNO, PowerTRIO, and PowerX will be available from July 2022.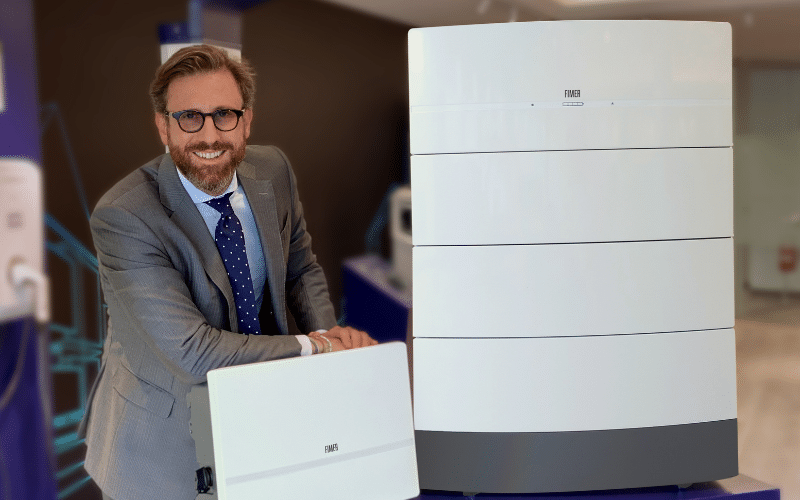 Italian design meets cutting-edge technology
Florian Chan, Managing Director of the Residential line of business at FIMER, explained:
"FIMER has a long tradition of providing innovative solutions for the residential market, including the first three-phase or slimmest residential inverter in the world."
"With the 'Power' platform, we will revolutionise the experience for installers and homeowners by combining best-in-class Italian design with cutting-edge technology. We worked hard to develop a quick and super easy installation to guarantee the highest level of reliability. With the FIMER PowerUNO, PowerTRIO and PowerX we will significantly simplify the whole installation procedure. The Power platform is made for installers – they will love it."

PowerUNO and PowerTRIO
The PowerUNO and PowerTRIO inverters, which combine the latest technological advancements with high-end design elements, provide a broad range of power capabilities ranging from 2 to 8.5 kW and single and three-phase options.
With time at a premium for installers, these products will significantly simplify the whole installation process with plug-and-play connections that allow super-fast installation.
The inverter's power densities are among the highest on the market. With built-in high-end connectivity with Wi-Fi and ethernet, and Linux OS, the inverters can also be locally integrated with smart home appliances, Electric Vehicle charging, and FIMER's Aurora Vision cloud.
In addition, the inverters feature a dedicated blockchain processor which allows utilities and aggregators to build specific use cases on top of the units, avoiding the need for external devices. This approach reduces installation time and mitigates cabling errors.
FIMER PowerUNO and PowerTrio key features:
Wide range of power sizes (From 2.0 kW to 8.5 kW)
Small and light but robust and powerful
External Plug&Play connections (no need to open the front cover)
Embedded communication – Built-in Wifi logger, Ethernet, USB
Battery ready
Compact and lightweight design
Leading conversion efficiency of +98%
Super silent with <30dBA noise level
Arc fault detection option

Power X Modular Battery System
Demand for battery storage systems is continuing to grow in the Australian market, particularly with the rise of Electric Vehicles. FIMER's new high-capacity battery storage system, Power X, offers the highest residential storage capacity on the market.
The Power X features a smart modular design that makes it easy for installers to add or remove modules depending on the needs of each project. The battery system is equipped with a built-in lithium ion battery management system and can be mounted to any wall in an inverter's enclosure for quick, efficient installation.
The small overall footprint and weight, even at maximum capacity. means that only one person is required for installation. To further appeal to homeowners, FIMER PowerX includes the option of personalising the colour of the curved front cover, giving it an Italian design flair that blends seamlessly with its surroundings.
FIMER PowerX battery storage key features:
Modularity: Up to 16 kWh for each unit
Lightweight for easy handling, transportation, and maintenance
Possibility to add a storage system and new battery modules anytime
Left or right charger connection
Tool-free click-and-connect system (battery module/s and BMU)
Robust and easy Panel-to-panel connector, no wiring needed
Front side access without screws
Great backup capacity: Up to 48 kWh (three coupled units)
Customisable colour and logo
Can be mounted on the wall or floor
Embedded communication
Zero space between battery units
FIMER has also recently announced the launch of its Certified Installer Program for Australian and New Zealand solar and energy storage installers. The program offers a range of incentives and useful resources to proactively support their growth and business bottom line.
For further information on FIMER products or to request a quote for a FIMER inverter or battery storage solution, please visit Energy Matter's dedicated partner webpage.