Investment may have been down in renewable energy globally last year, but the money spent saw a whole lot more bang for buck according to a new report.
Global Trends in Renewable Energy Investment 2017 states while the investment level in renewables during 2016 was 23% lower than 2015, 138.5GW of capacity was installed; up 9 per cent from 2015.
Excluding large hydro, renewable energy accounted for more than half (55.3%) of new electricity generating capacity added worldwide last year – a new record.
Spending wasn't down in all countries – for example, Australia made the top ten for new renewable energy investment in 2016, ranking at no.7 with USD $3.3 billion invested (+51%). Australia financed a wide range of projects, but much of it went to wind power.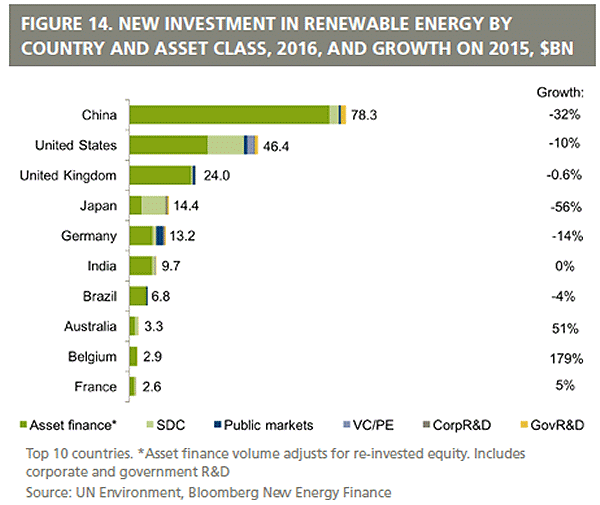 Among other new records set last year, more solar energy capacity was added globally than any other generating technology. Following solar were wind, coal, gas, large hydro, nuclear and biomass respectively in terms of net capacity installed.
The report states average dollar capital expenditure per megawatt for solar photovoltaics and wind plummeted by more than 10%. While new investment in solar totaled $113.7 billion (-34%), installations rose to a record high of 75 gigawatts.
"It's a whole new world: even though investment is down, annual installations are still up; instead of having to subsidise renewables, now authorities may have to subsidise natural gas plants to help them provide grid reliability," said Michael Liebreich, Chairman of the Advisory Board at Bloomberg New Energy Finance ( BNEF).
In the second half of last year, the central estimate for levelised costs for solar PV was USD $101 per MWh, down 17% in just twelve months. Onshore wind's central levelised cost estimate was $68 per MWh in H2 2016, down 18% in a year; while offshore wind was $126, down 28%.
The authors point out that even with all this new capacity installed and previously existing capacity in place, overall energy-related carbon dioxide emissions continue to account for more than 32 gigatonnes per year.
Global Trends in Renewable Energy Investment 2017 can be viewed in full here (PDF).