Japan-based Peace Boat has announced the Ecoship Project; an ambitious undertaking to build the world's greenest cruise ship.
Announced at the COP21 climate talks in Paris last week, the 55,000 ton ship will make its first voyage in 2020.
To power Ecoship, the vessel will feature 10 retractable solar-panel coated sails, a deck-mounted solar power system and an LNG hybrid engine also able to adapt to bio-fuels.
"Peace Boat's 2020 launch of the Ecoship offers a vision for a climate-friendly future and can lead the way towards a green cruising model that can also impact the wider shipping industry," said Yoshioka Tatsuya, Founder and Director of Peace Boat.
Emissions from the shipping sector are significant, already accounting for 2-3% of global emissions and projected to grow to 6-14% by 2050.
Ecoship's aerodynamic upper hull design was inspired by the shape of the humpback whale. Below the waterline is a non-toxic, anti-fouling hull coating that mimics fish skin.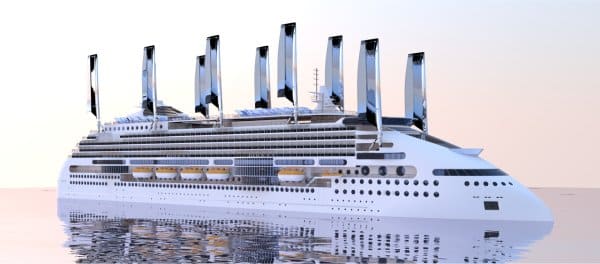 A closed-loop water use system will see waste water reused, purified and re-purposed for irrigating an on-board garden.
Operation of the vessel will involve zero NOx and SOx emissions and a 40% reduction in CO2 emissions compared to cruise ships with conventional propulsion built before 2000.
The world's first 10-mast cruise liner, Ecoship's solar panel-covered sails and top-deck solar farm will continue to generate more than 740 kW of power in the event of low wind conditions.
The craft will also feature a microscale combined heat and power generation system and an efficient HVAC system using waste energy from the main engines.
Ecoship's activities will include educational voyages carrying 5,000 people annually, hosting exhibitions of green technology in various ports around the world and acting as a floating laboratory.
The Ecoship project is being carried out in partnership with Institute for Sustainable Energy Policies (ISEP)
Established in 1983, Peace Boat was nominated for the Nobel Peace Prize in 2008. The group seeks to create awareness and action based on effecting positive social and political change in the world.
Trivia – the world's largest fully solar-powered boat is PlanetSolar's "Turanor," a catamaran measuring 31 metres by 15 metres. It has a solar panel surface area of over 529 square meters incorporating 36,000  solar cells.