If you're in the solar industry, you're undoubtedly well-versed in the quality and longevity of Suntech PV solar panels. Established in 2001, Suntech has risen to the top and boasts a top 10 ranking for the most bankable PV module brand in the world. Suntech recently celebrated 20 years of success in the solar industry. Providing world-class quality coupled with innovation and longevity, Suntech is fast becoming the panel of choice for Australian solar installers. Suntech is proud to announce an exciting new venture with its sister company Sunways – a German solar inverter manufacturer founded in 1993 and acquired by Suntech's parent company, Shunfeng International Clean Energy Group (SFCE – Hong Kong Stock Exchange listed) in 2014. SFCE stands as one of the world's largest renewable energy companies.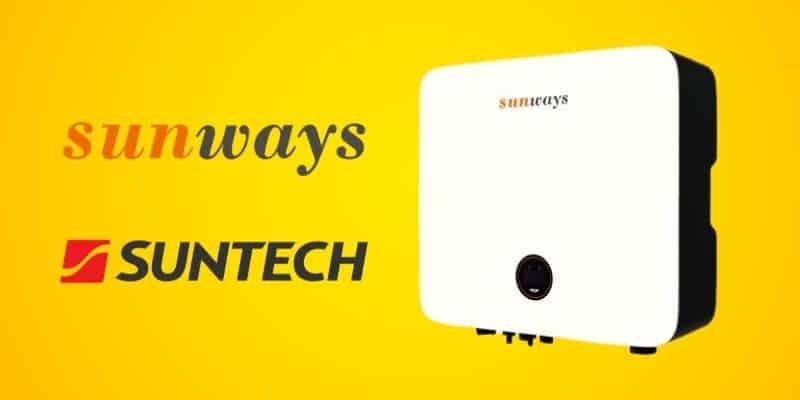 This new venture provides Sunways a means to distribute product throughout Australia, whilst bringing innovative technology to the market. With SF Suntech servicing the whole of Australia from their Sydney office, customers can be sure that their world-class customer service will be matched only by their exceptional product quality and reliability. With over 3 million panels installed in Australia and installations in over 100 countries, Suntech is ready to deliver Sunways' new inverter to an Australian market that welcomes innovation with open arms.
Suntech-Sunways 5kW Inverter
Suntech and Sunways are proud to bring their inverters to Australian businesses and households. With quality, safety, and efficiency in mind, these inverters provide all the bells and whistles at affordable prices. These are just some of the features you will find across their inverter range:
German designed and engineered
12 years full parts and labour warranty, with extensions to 15 and 20 years available.
Best in class components for optimum performance and reliability
Whisper quiet – less than 25dbA
10% continuous AC overload capability
Wide variety of inverter sizes
Compact elegant design, light weight, one-person installation
Very solid, diecast aluminium build. Anti-erosion.
Built in compliant DC isolator (one of the main causes of an inverter fire are incorrectly installed/faulty isolators).
Built-in esport limiting
WiFi monitoring included, and wired internet connection is an option.
OLED display, aesthetically pleasing and far more durable than LED or LCD.
Recyclable packaging! No styrofoam.
Warranty supported by SF Suntech Australia
Australian Solar Installer Review
Energy Matters asked one of their solar partners, Specialized Solar & Electrical, to install the new Suntech-Sunways 5kW Single-Phase inverter. An Energy Matters representative was present during the install. The Specialized Solar & Electrical installer stated "It was very quick and simple to commission. It's also one of the more solid inverters we've installed".
Specialized Solar & Electrical have reported no faults or errors in the 3 months since the install and the system is performing excellently. They have reported that the Back to Base monitoring is clean, neat, and easy to use.
Our representative was impressed at the ease of installation – with only one installer required to fit the inverter. The inverter is sleek, compact, and incredibly quiet.
Sunways Product Range
Suntech will be delivering a huge range of Sunways products:
Single Phase: 3/3.6/4.2/4.6/5/6/7/8/10kW
Three Phase: 4/5/6/8/10/12/15/17/20/25/50/60/80/100/110/125kW
Hybrid Single Phase: 3/3.6/4.2/4.6/5/6/7/8kW
Hybrid Three Phase: 4/5/6/8/10/12kW
While available now through various solar wholesalers across Australia, Energy Matters is excited to announce that Suntech-Sunways products will soon be available for wholesale via the Energy Matters Marketplace. Suntech is also finalising details on their Suntech Authorised Partner Programs for retailers or installers who want access to exclusive warranty extensions and the best prices. Sunways' products will join Suntech's extensive product line.
Exciting New Venture to Benefit Australians
Eric Koh, General Manager, could not be more excited to be bringing the excellence of Sunways' products to Australian households and businesses. Coming from an engineering background, he knows the importance of having a quality mindset in component selection whilst offering a point of difference for retailers to compete in the market.
"Sunways equipped customers with the ability to promote the brand with German heritage, industry-leading 12 years non-gimmick warranty and supported by SF Suntech Australia with 14 years of local presence. This provides a point of difference in a highly competitive market like Australia.
Combining this with our Authorised Partner Program, customers that chose to install Suntech/Sunways can be sure to have a product offering that does stand out from the crowd. Not only from a quality and performance angle, but you will have access to several benefits and features that that is not accessible to others. This will allow you to offer your customers a unique product offering which makes it easier to sell in a saturated market."
Recently celebrating 20 years, Suntech expects that this new chapter will bring its offerings to the Australian market to the next level. With affordability, safety, reliability, and innovation at the fore, we expect to see Suntech-Sunways take the lead in Australian solar installs.
If you are looking to go solar, you can get up to 3 FREE solar quotes – completely obligation-free. Go solar today and save tomorrow!