Buy Tesla Powerwall 2 – the next generation of the revolutionary home battery system for Australia that helps you make the most of electricity generated by your solar panels. You can also charge from the mains grid via lower-priced off-peak power!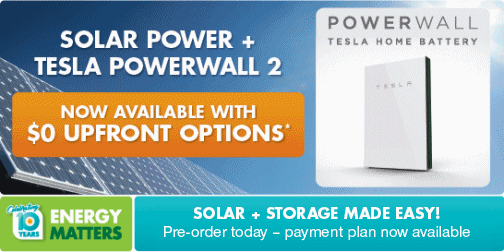 Tesla Powerwall 2 is a fully integrated battery system that powers your home when your solar panels aren't producing enough electricity to supply your appliances – for example, in the evenings.
A limited number of Tesla Powerwall 2 units are available for installation in Australia early in 2017, so secure your place on our Tesla priority installation list now!*
TESLA POWERWALL 2 AC OFFERS
New PV system installation: Pre-order a deeply-discounted qualifying solar power system with Tesla Powerwall 2 and you'll be placed on our priority list for installation!
BONUS! FREE Tesla Backup Box upgrade*** – power your home when the grid can't – $900 value!
$0 deposit payment plan also now available! **

Existing PV system owners: For existing system owners; pay a deposit now to secure your Tesla Powerwall 2 priority supply at a great price.
BONUS! FREE Tesla Backup Box upgrade*** – power your home when the grid can't – $900 value!
Call us on 133-SUN to learn more.

WHY BUY TESLA POWERWALL 2 FROM US?
As well as offering very competitive prices on Powerwall 2, Energy Matters' parent company is a Tesla Powerwall Certified Installer. This means your battery purchase will be supported by highly trained and qualified technicians who are required by Tesla to provide you with a superb level of customer service.
We've been installing household battery systems in Australia since 2006. We have the experience and the people to ensure your Tesla Powerwall 2 is installed for optimal performance – buy with confidence! Call us on 133-SUN to learn more.
ALL-IN-ONE BATTERY SYSTEM
The new Tesla Powerwall 2 AC has an inbuilt DC-AC inverter, simplifying installation and reducing install costs.
TESLA POWERWALL 2 BENEFITS
In addition to comprising of state-of-the-art components and backed by a solid 10-year warranty, Powerwall 2 AC has several features crucial in a top quality home battery system for Australian conditions.
Solar self-consumption
Time of use load shifting
Backup and off grid
STORE SOLAR POWER EFFICIENTLY
Tesla Powerwall 2 AC has double the capacity of the original Powerwall – 13.2 kWh of usable energy storage capacity. It also has a much greater power output capability of 7kW peak and 5kW continuous.
The battery has an 89% round-trip efficiency and up to nine batteries may be installed together for homes with greater energy needs.
The wall or floor mounted system enables Powerwall units to be "stacked" using a special frame.
SAFE AND MAINTENANCE-FREE
Older generations of deep-cycle (home) batteries can be dangerous in the hands of inexperienced users; bulky, expensive to install and difficult to maintain.
In contrast, Powerwall 2's lithium ion battery use Tesla's proven automotive battery technology to power your home safely and economically – and requires no maintenance!
The system is "touch-safe", with no live wires or bulky vents.
SLEEK, STYLISH AND ROBUST
Tesla leads the way with aesthetics – but don't let its streamlined good looks fool you. The enclosure is rated for outdoor as well as indoor installations and can handle whatever Australian conditions throw at it.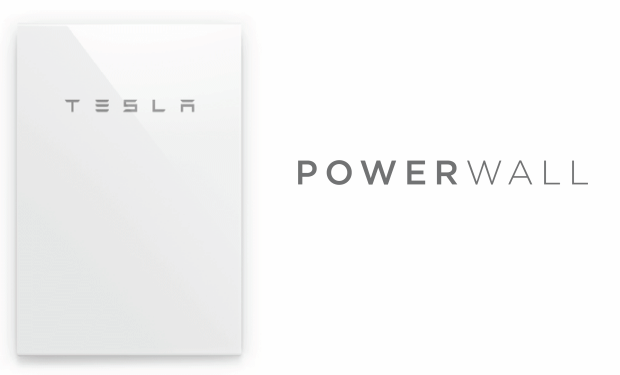 WATCH YOUR POWERWALL 2 AT WORK
Monitor your solar electricity use in real-time from your computer or hand-held device. Powerwall can even alert you when it's preparing for cloudy or severe weather.
HOW A TESLA POWERWALL 2 AC BATTERY WORKS
The image below and dot points detail how Tesla Powerwall 2 AC battery integrates with a home solar power system.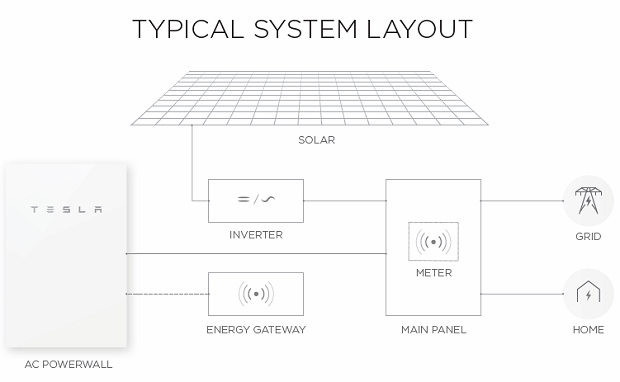 Solar panels convert sunlight to DC (Direct Current) electricity.
The solar inverter converts the DC electricity to AC (Alternating Current) and supplies power to appliances in the home.
If surplus solar electricity is available, this can be used to charge the Tesla Powerwall 2.
The battery storage unit can also be charged using cheap off-peak mains electricity.
Tesla Powerwall 2 can supply AC electricity directly to the home.
If the Tesla Powerwall 2 AC battery is fully charged and the electricity needs of the household are being met, any surplus power generated by the solar panel system is exported to the mains grid.
TESLA POWERWALL RETROFIT INFO
Powerwall 2 AC can now be even more easily added to many existing solar power systems thanks to its inbuilt DC-AC inverter. A separate battery inverter is not required!
TESLA POWERWALL 2 AC SPECIFICATIONS
Technology
Rechargeable lithium ion battery with liquid thermal control.
Capacity

13.2 kWh usable capacity
For daily cycle applications
Warranty
10 years
Efficiency
89% round-trip efficiency
Power
7kW peak / 5kW continuous
Compatibility
Single phase and three phase utility grid compatible.
Grid Frequency
50 and 60 HZ
Operating Temperature
-20°C to 50°C
Operating Temperature
-20°C to 50°C
Ingress Rating

IP67 (Battery & Power Electronics)
IP56 (Wiring)
Enclosure
Rated for indoor and outdoor installation in Australia.
Installation
Wall or floor mount
Requires installation by a trained electrician.
Weight
122 kg
Dimensions
1150mm x 755mm x 155mm
Connectivity
Wi-Fi, Ethernet, 3G
Certification
Powerwall 2 will be compliant with relevant Australian safety and electrical standards at market launch.
Additional Specs
Download the Tesla Powerwall 2 AC Datasheet
*Terms and conditions apply.
Please note: Due to limited stock availability in Australia and logistics requirements, battery installations outside of Perth, Sydney, Brisbane, Adelaide, Hobart, Launceston and Melbourne metropolitan areas will be considered on request.
Note: Eligibility subject to site inspection and review of existing system conditions and standards. Full replacement of the inverter might affect your solar feed in tariff eligibility, Offer available in selected Australian metropolitan areas only. We not guarantee any savings or that any savings will be realised immediately after completion of system installation.
** Eligibility criteria applies upon application with a third party payment plan provider. Actual payment amounts, payment plan term, interest rates and fees and charges payable will be supplied upon application with a third party payment plan provider. Other fees and charges may also apply. Offer available through selected distribution partners.
*** Get a free backup unit upgrade with the purchase of a Tesla Powerwall 2. Value of backup upgrade is based on Energy Matters' current pricing for the Tesla back-up unit and does not include cost of installation. The period of time the battery will power your home appliances for during  a power outage depends on the amount of charge the battery has at the time of outage and the amount of power your home is consuming. Tesla Powerwall 2 offers 5kWh continuous output and 7kWh peak output. Not all appliances are compatible with the solution. Please discuss your specific situation with your sales representative. Tesla Powerwall 2 not available in NT. Offer valid on purchases from 10 – 24 April 2017.