Bosch has been delivering hot water to Australian and New Zealand households for more than 50 years. After pioneering continuous flow water heating in the late 1800s, Bosch today continues to be an innovator in designing sustainable hot water systems for residential and commercial use.
Bosch offers a comprehensive range of reliable, energy-efficient hot water technologies to the Australian market. Due to their excellence in energy efficiency, Bosch water heaters can provide considerable savings on running costs today and help preserve the environment for tomorrow.
In 2010 Bosch added Solar Hot Water to its portfolio of products available in Australia. Although a recent entrant to the Australian market, the Bosch group has more than 30 years experience in the area of solar hot water, predominantly within Europe. This substantial global experience and technological competence, complemented by our local market knowledge, has allowed Bosch to develop a solar water heating program suitable for Australian situations.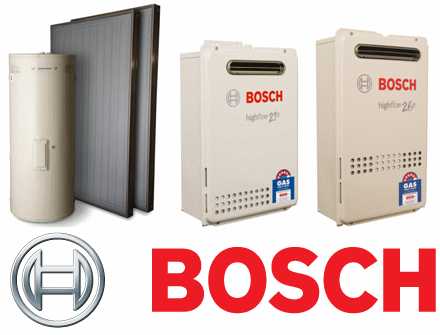 The Solar Wizard range of solar hot water heaters are classified as "direct" solar systems where potable water is heated directly in the collector. The tank is mounted on the ground, remote from the roof mounted collectors. This range is available in 250L, 300L, 400L tanks, with either electric or gas boosting. A user friendly controller allows the consumer to view the systems mode of operation at any time.
The Bosch "TSS 300" Thermosyphon system is a "close coupled" solar system with the tank and collectors both mounted on the roof. As it works on the thermosyphon principle of rising hot water, a pump and controller is not required, making this a simple and robust solution. As it is an "indirect" solar system, a heat transfer fluid circulates through the collectors rather than the potable water. This system is therefore ideal in frost or poor water quality areas. The system is also backed-up by electric boosting.
A 250L Bosch European designed "indirect" system will be introduced during the second half of 2011. This unit has a separate tank and collector mounting configuration as per the Solar Wizard, but utilizes a heat transfer fluid to heat the potable water that remains in the tank. This is a premium system ideal for colder climates, and can be supplied with either electric or gas boosting.
The Bosch promise of quality is the foundation of its business. The Bosch solar product range offers first-class products that are trustworthy and durable.
The Bosch Group, started in Stuttgart in 1886, comprises of Robert Bosch GmbH and more than 300 subsidiaries and regional companies in over 60 countries. Bosch is a name synonymous with excellence in German engineering.