About Flex
Flex may be the biggest company you've never heard of. But you will know many of Flex's clients – Nike, Google, NASA and Bose – just to name a few. A Fortune 500 company, Flex designs and builds Intelligent Products for a Connected World. With over 200,000 professionals working in 100 locations across 30 countries and 13 industries, Flex (also known as Flextronics) is at the forefront of technology, innovation, engineering and manufacturing.
Flex has delivered over 8 million solar panel modules to customers around the world – with extensive experience designing and manufacturing products for top tier solar, inverter and energy technology companies, including brands such as Enphase and Canadian Solar and its own NEXtracker (the world leading utility scale mounting system used for the ACT's iconic Mount Majura Solar Farm).
The company's unique capabilities help drive innovations in renewable energy and energy storage and management technologies – from smart meters that transmit usage data, to smart grids that respond to shifts in energy loads and increase overall efficiency.
"We believe in the power of technology to connect people, products and services to create a smarter, more sustainable future," says Flex. "It's not just the right thing to do, it's the smart thing to do, for the environment, for people and the communities in which we live and work."
Learn more about Flex at the Flex web site or watch the videos below
Flex Powerplay
Flex Powerplay is a one stop solution for residential solar power that is designed to to work, and to work together. All the components, from the solar panels to the inverter to the battery and the monitoring infrastructure is either Flex branded or designed to work with Flex Powerplay.
Flex is a world leader in solar panel manufacturing. In fact, many other top solar brands trust Flex to manufacture their own panels. Powerplay uses Flex panels as the starting point of using the sun for energy.
Designed to work together, PowerPlay's inverter turns the electricity generated by the solar panels into usable power for your home, while the Energy Hub helps you use that power smartly – saving you more energy and more money, right from day one.
If you prefer, you can also choose inverters from reputable manufacturers such as SMA, Enphase and Ingeteam.
By storing the power you generate in a home battery system, you can continue using your own solar power long after the sun's gone down. Since the night is peak time for home electricity use, adding a solar battery storage system such as Powerplay's preferred sonnen solution can help you save on expensive energy, as well as be prepared in the event of a blackout.
Discover more about Flex Powerplay at the Powerplay Australia web site.
Flex Solar Panels Modules
Energy Matters is happy to announce that we are the first to offer solar modules from one of the largest solar panel manufacturers outside of China. Flex is based in California, USA.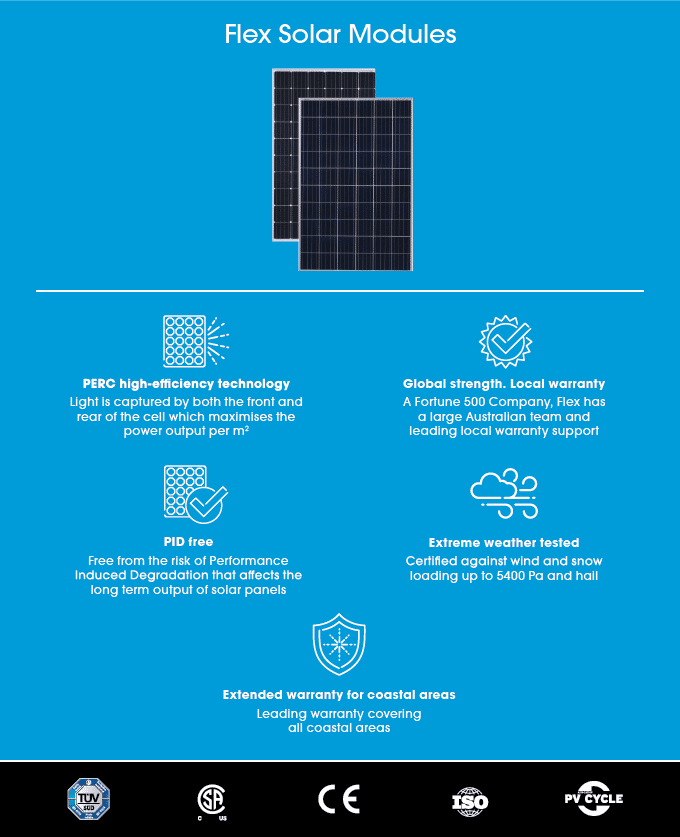 As an internationally trusted brand that has produced millions of solar panels for many of the high profile companies we see in the market today, Flex has a strong and unrivalled manufacturing background, including design, production and execution in the solar energy market.
Energy Matters via Flex are able to offer both Mono and Poly cell modules as well as a 10 year warranty for materials and workmanship that is backed by the security of Flex's position as a $26 billion Fortune 500 Company, diversified across 13 industries.
These Flex solar panels feature PERC mono high-efficiency technology which allows the panels to maximize the power input per m2, as well as low glare anti-reflective coated (ARC) tempered glass.
They are extreme weather tested and ideal for the harsh Australian climate. While most solar panel warranties exclude coastal areas due to the corrosive nature of salt and sea mist, Flex's outstanding warranty covers there panels in these regions comprehensively.
Discover more about our solar panels: 60-Cell Poly: 265 W, 60-Cell Poly: 270 W, 60-Cell Poly: 290 W 
Flex Energy Monitor
A new product available via Energy Maters, the Flex Energy monitor is set to transform the way you monitor your home power usage.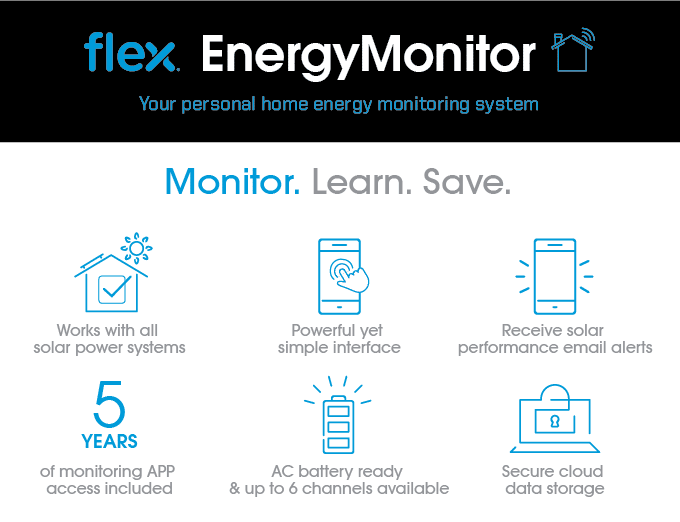 This clever device enables solar owners to see what their system is generating (production monitoring) and how much electricity the household is consuming (consumption monitoring); helping them to stay in control of their energy use.
Easy to install and use, just set the Flex Energy monitor up to a new or existing system and it's ready to go, you can check your energy use and patterns from home or on the go with a laptop or phone via the easy to use online interface.
Learn more about Flex Energy Monitor.
Residential Customers
You can have Flex components installed as part of a home solar power system – get a quick quote now!