About Flex
Flex may be the biggest company you've never heard of. But you will know many of Flex's clients – Nike, Google, NASA and Bose – just to name a few. A Fortune 500 company, Flex designs and builds Intelligent Products for a Connected World. With over 200,000 professionals working in 100 locations across 30 countries and 13 industries, Flex (also known as Flextronics) is at the forefront of technology, innovation, engineering and manufacturing.
Flex has delivered over 8 million solar panel modules to customers around the world – with extensive experience designing and manufacturing products for top tier solar, inverter and energy technology companies, including brands such as Enphase and Canadian Solar and its own NEXtracker (the world leading utility scale mounting system used for the ACT's iconic Mount Majura Solar Farm).
The company's unique capabilities help drive innovations in renewable energy and energy storage and management technologies – from smart meters that transmit usage data, to smart grids that respond to shifts in energy loads and increase overall efficiency.
"We believe in the power of technology to connect people, products and services to create a smarter, more sustainable future," says Flex. "It's not just the right thing to do, it's the smart thing to do, for the environment, for people and the communities in which we live and work."
Learn more about Flex at the Flex web site or watch the videos below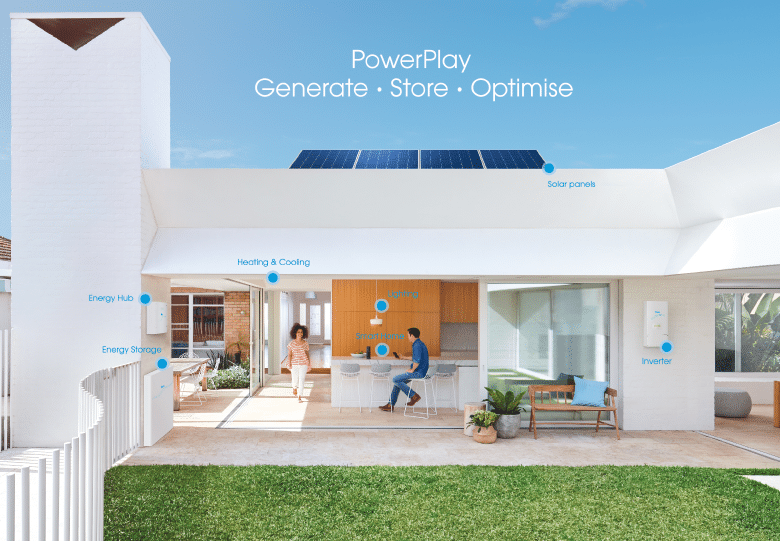 Flex PowerPlay
Most solar systems just generate power. Flex PowerPlay does that, and a whole lot more.
Flex PowerPlay is the most complete smart solar power system to hit Australia. It doesn't just generate energy with solar panels, it also stores it and helps you optimise your energy use. It gives you real-time energy monitoring and the ability to control appliances from your phone to make the most of those times when your solar panels are producing excess power. It's all designed to give you the greatest control over your energy and its costs.
Unlike regular solar systems, Flex PowerPlay integrates with smart technology, turning your house into a modern, connected solar home. On sunny days, when your system is generating more energy than you can use, PowerPlay can automatically adjust your air-conditioning for maximum comfort and savings. And that's just the beginning. PowerPlay is a system so smart, it thinks for itself!
The Flex PowerPlay solar system is the most comprehensive suite of solar products from one brand.
Designed to work in harmony, PowerPlay's inverter turns the electricity generated by the Flex solar panels into usable power for your home, while the Energy Hub helps you use that power smartly – saving you more energy and more money, right from day one. Add the PowerPlay packs and you'll be able to automate energy-hungry appliances like water heaters, air-conditioning and pool pumps.
PowerPlay is also compatible with the leading battery brands on the market. By storing the power you generate in a home battery system, you can continue using your home-grown solar power long after the sun has gone down. Adding a solar battery storage system, such as PowerPlay compatible solutions from leading brands like sonnen, can help you save on energy expenses. Battery storage also means you will be well-prepared in the event of a blackout.
Discover more about Flex Powerplay at the Powerplay Australia web site.
Flex PowerPlay products available through Energy Matters