BUILDING A SUSTAINABLE FUTURE THROUGH INNOVATION, TOP QUALITY PRODUCTS AND EXCEPTIONAL SERVICE
"What we are and what we stand for is based on my grandfather's belief in sustainability. We remain committed to this sense of responsibility today."
Elisabeth Engelbrechtsmüller-Strauß, CEO Fronius International
FRONIUS, ONE OF THE EARLIEST SOLAR PIONEERS
A passion for new technologies, intensive research and revolutionary solutions have been shaping the Fronius brand since 1945. Our success as a global technology and quality leader – but at the same time as a family-run business – is based on values that we live by every day for over 75 years.
Our focus on Sustainable and healthy growth, Premium quality & Sustainable use of resources is reflected in our "Made in Austria" Fronius Inverters. As an Austrian family business, we are particularly proud of our sustainable research and production in Upper Austria.
High Quality, Worthwhile Investment
To offer the highest quality of inverters in the market, Fronius inverters undergo tests performed under extreme conditions and far beyond the prescribed standards to ensure that the device lasts a lifetime in the harshest conditions. Fronius Inverters are a solid basis for every PV system, from domestic homes to large-scale PV systems. With an energy storage solution, Fronius solar systems ensure maximum energy independence for every residential household and commercial site.
Keep an eye on the system at all times
With the free Fronius Solar.web online tool, you can keep an eye on your energy yield and consumption at all times and get the most out of your photovoltaic system
ADVANTAGES OF SYSTEM MONITORING
☀  Play it safe: monitor your solar production and how you are using your solar produced energy
☀  Save more: optimise energy consumption by making small changes (e.g switch on the washing machine two hours earlier and pay less on expensive electricity from the grid
☀  State of the art: always keep your PV system relevant to your energy requirements, analyser tools such as battery simulation available to check if an upgrade to a battery storage system would be cost saving for the long term
We want to power your home with solar energy all the time. Serviceability is essential to save time and create more up-time for your system.  All Fronius products are serviceable onsite and are engineered to be repaired efficiently. With a local repair centre in Melbourne, Fronius inverters are guaranteed rapid repair locally.
Sustainability is at the heart of everything Fronius does. Fronius products are carefully engineered to ensure that their environmental benefits outweighs their impact. 81% of the electricity used to make our latest solar inverters is sourced from renewable energy, and 90% of the product is recyclable.
"5 PLUS 5" YEAR WARRANTY PROMOTION
All Fronius inverters come with five years Fronius Warranty Plus as standard. Users can claim an additional five years Fronius Warranty for free for a limited time upon registration on Fronius Solar.web. 
When comparing our warranties with those of our competitors, you should consider the services included and the long-term existence, confidence and security of our company. 
Fronius offers two warranty levels:
For comprehensive coverage. In warranty cases, Fronius bears additional material costs, transportation costs (within Australia) and service reimbursement.
The economic way to hedge against risks. In warranty cases, Fronius bears the costs of material.
PURCHASE WARRANTY EXTENSIONS FOR GREATER PROTECTION
For security beyond the duration of your "5 Plus 5" year warranty, you can extend the warranty duration fee-based up to 15 years, for a total of 15 years peace of mind.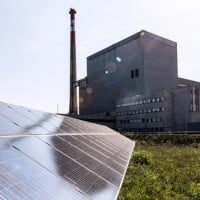 A former nuclear power plant in Austria is tapping another form of nuclear energy from a reactor situated a very safe 149.6 million kilometres away – the
Read More »