Dedicated to a greener world for future generations, LONGi Solar Australia is a
world leading manufacturer of high-efficiency mono-crystalline solar cells and modules
. The company, wholly owned by the LONGi Group, has focused on p-mono for 19 years and is today the largest supplier of mono-crystalline products in the world, with total assets above $8.91 billion (2020Q1). In 2020, LONGi shipped 24.53GW of solar modules world-wide, setting a new industry shipment record and for the first time became the undisputed
leader in global solar production volumes
. The company
continues to break world efficiency records in R+D
and is
consistently supporting customer value
by introducing new manufacturing technologies faster and at greater scale than it's competitors.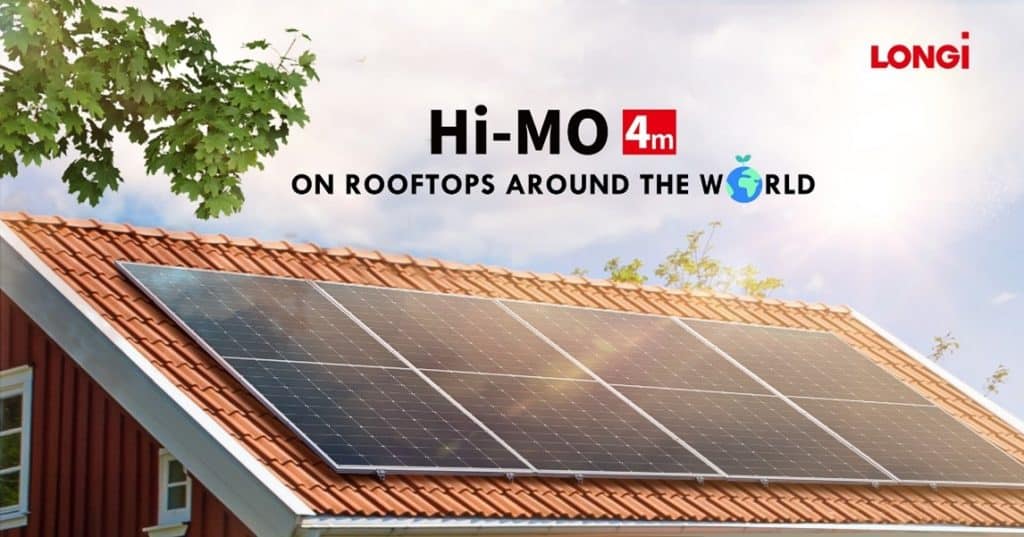 As an integrated PV module business, LONGi is ideally placed to offer customers the best quality solar technology at reasonable prices no matter the project requirements.
LONGi Solar Australia is based in Sydney and has a dedicated local team to support customers across operations, marketing, sales, technology, and large-scale project planning. Local knowledge backed by a global technological and financial powerhouse makes LONGi Solar Australia the best option to power your home or future solar project.
Why should you choose LONGi?
✓

Most valuable solar technology company with the highest market value

✓

Only AAA-Rated module supplier (PV Tech Bankability Rating)

✓

100 % Bankability rating (BloombergNEF)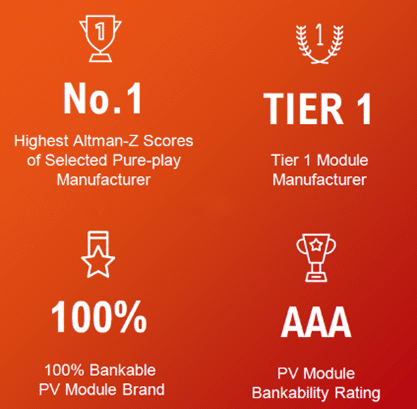 AAA-Rated Module Supplier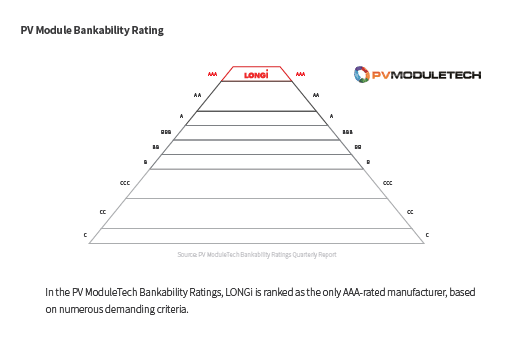 LONGi has an extensive global footprint with several long-lasting partnerships with companies in several industries that share the interest of changing the way we generate, utilise and consume energy.

Technology and Innovation
As a leading solar technology company, LONGi has set several benchmarks and raised standards of how these are to be applied for higher performance and broader application fields, achieving one of the highest efficiency and performance ratings.

LONGi understands that peace of mind for customers is essential when considering high investments like solar energy and it works hard to ensure its products comply with the highest standards and quality, and that are fully recognised and certified by technical bodies globally.
LONGi's products deliver exceptional quality in terms of design, components, reliability and performance.  Thorough processes are involved with several testing periods to make sure LONGi's panels withstand the worst of the weather conditions.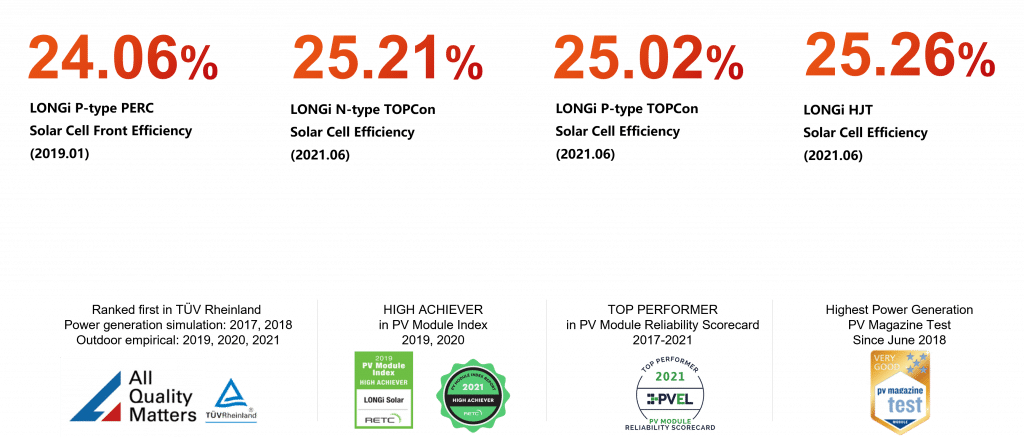 ✓

Ranked first in TÜV Rheinland Power generation simulation 2017, 2018
    & Outdoor empirical 2019, 2020, 2021

✓

HIGH ACHIEVER in PV Module Index 2019, 2020

✓

TOP PERFORMER in PV Module Reliability Scorecard 2017-2021

✓

Highest Power Generation – PV Magazine Test – Since June 2018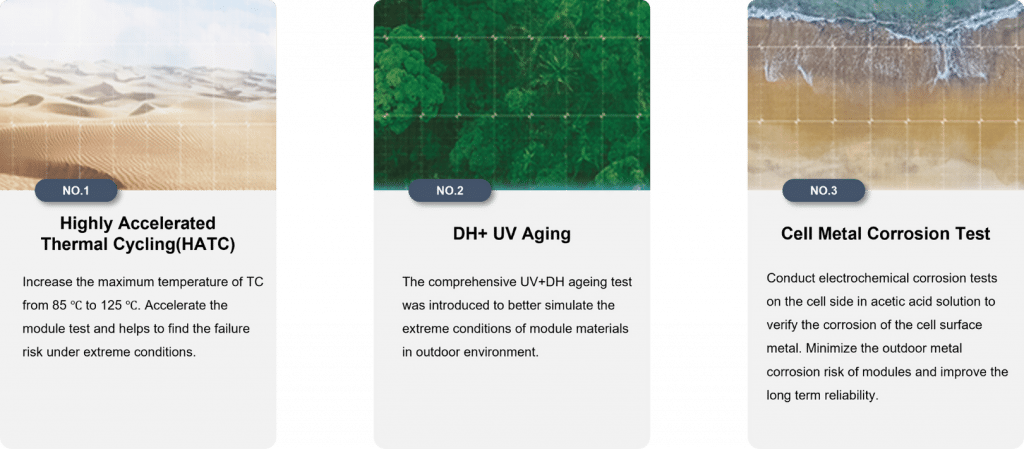 The goal, making modules that perform well, are reliable, last long, and are versatile enough to be installed in most environments. LONGi's product range count with these characteristics. The Hi-MO series cover all scenarios from small to ultra-large, with exceptional flexibility.
LONGi Hi-MO 4 series products are monocrystalline bifacial modules using the new M6 (166mm) silicon wafer that delivers the highest power in the modules. LONGi's advanced R&D technology led the upgrade of silicon wafer size from M2 to M6, and ushers in the era of the 166mm standard. LONGi M6 silicon wafer technology enhances the power of the modules, with front side power up to 450W. The results are BOS savings and the lowest LCOE for the photovoltaic project.
Leading the Era of M6 Standard
Backside power generation gain
Good electrical performance under shaded conditions
Resistant to hot spots
Adapt to high temperature and high radiation environments

Maximize Power Density and Flexibility
Hi-MO 4m modules have significant advantages of high efficiency, high power generation, and high reliability. Its size and weight scientifically match the requirements of distributed system installation and application scenarios. It is an ultra-high-value product tailored by LONGi for distributed users. The 66 version released this time is a useful supplement to the Hi-MO 4m series modules. The module has an area of about 2㎡, a weight of 22kg, and a power of 410~420W. It can be widely used in residential and C&I.
M6 gallium doped silicon wafer
Standard size, flexible application
Symmetric design, aesthetic outlook

LONGi optimized gallium-doped M10 standard silicon wafers (182mm) to produce a P-Type Mono PERC module with the lowest LID, increased attenuation and power performance as well as long-term reliability.  Hi-MO 5  adopts "Smart Soldering" which uses integrated segmented soldering ribbons that maximize light capture and connect cells with reduced gap distance and reduce the tensile stress of the cell
M10 wafer with gallium-doped technology
P-PERC cell technology
Half-cut cell with multi-busbars
72-cell format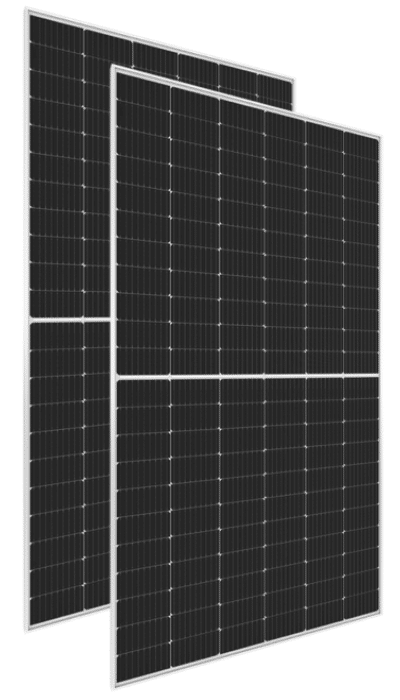 As seen on Season 5 of Open Homes Australia