Sungrow is China's largest string inverter manufacturer. More than 28,000 megawatts capacity of its products are installed globally (2016).  Sungrow inverters have been turning heads in Australia and around the world – and with good reason.
In 2011, Sungrow raced up the inverter manufacturer rankings by 12 positions to reach number 5 and in 2015 was the no.1 Chinese supplier of solar inverters in terms of global shipments.
Sungrow quadrupled shipments of residential solar inverters to Australia in 2015. In 2016, Sungrow became the third largest PV inverter supplier in Australia, claiming 10% market share after having grown from just 1% in 2015.
Sungrow states it currently has market shares of over 30% in China and more than 20% in Germany.
Sungrow Solar Inverter Major Benefits
Aside from a very competitive price, Sungrow solar inverters boast features common in more expensive brands.
Light weight.
Easy installation – plug and play.
Low noise.
~97.4% efficiency.
Transformerless design.
Dual Maximum Power Point Tracking (MPPT).
IP 65 protection – protected from total dust ingress and low pressure water jets.
WiFi enabled, user-friendly application for monitoring performance.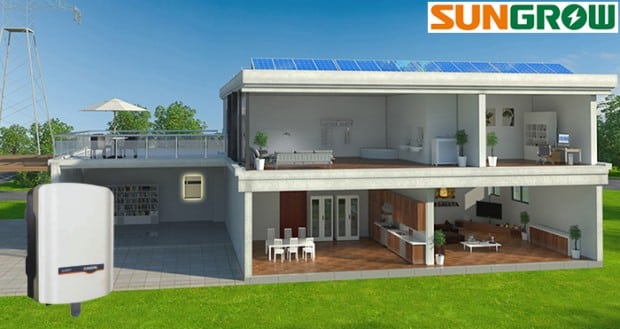 More About Sungrow
Founded in 1997 by Dr. Renxian Cao, Sungrow has 1000 employees, 40% of whom are research and development engineers.
Manufacturing huge volumes of inverters is one thing. Quality is another. In this respect Sungrow stands head and shoulders above other Chinese inverter brands.
All Sungrow units offering high efficiency and outstanding quality for inverters in this price range. This reputation has led respected industry publication Photon International to comment that the Sungrow solar inverter model it reviewed could rub shoulders with the best of the inverters it had tested to date.
Energy Matters has been installing Sungrow solar inverters since 2014 in its Performance range of systems. The installations have included government approved programs.  The excellent results achieved has led to these inverters becoming a preferred brand by local installers.
With optimized components and striking, robust design, SunGrow inverters are constructed to comfortably withstand Australian conditions.
Listed on the Shenzen stock exchange; Sungrow has an office and warehouse in Australia – ensuring excellent after sales service and warranty support.
All Sungrow solar inverters have a minimum 5 years warranty that can be extended up to 20 years; and WiFi options are available, enabling online monitoring via Sungrow's online portal.
Sungrow Inverters Enquiries
Energy Matters' parent company is an authorised Australian distributor of Sungrow inverters. We also provide Sungrow options for residential and commercial installations.
Residential Customers
You can have a Sungrow inverter installed as part of a home solar power system – get a quick quote now!
Wholesale CustomersF
Sungrow solar inverters are available via Energy Matters' wholesale distribution arm at very competitive pricing.
---
Product Reviews
Coming soon
---
Newsletter
Coming soon