A total of 71 MW of PV was registered in Australia in December and commercial solar set a new record; providing perhaps a taste of things to come in the sector this year.
According to the latest SunWiz Consulting Australian PV Market Insights, the increase in commercial solar last year pushed the average system size (overall) in Australia to 4.82kW. Residential system average size also increased to 3.85kW. Queensland installs the largest residential systems in the country – over 4kW on average.
Nearly a quarter of the Australian market (24%) now consists of  10kW+ capacity systems.
Last year, national provider Energy Matters installed more capacity in the 10-100kW range than any other installer in the nation says SunWiz.  The company installed nine commercial solar arrays 100kW or larger in 2014, including a 150kW project at the Sustainable Buildings Research Centre (SBRC) at the University of Wollongong.
The SunWiz report states 2014 is likely to have matched 2013 in small scale installations (~825MW), with 900MW+ including large-scale installs. Residential will account for 79% of the 2014 market.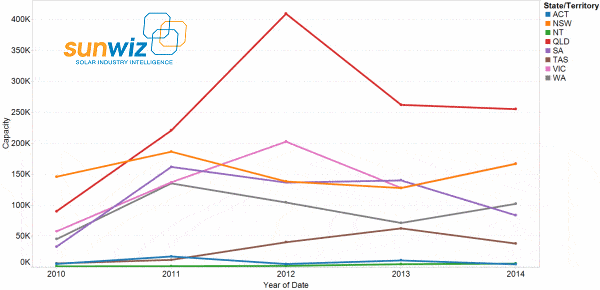 Queensland led the nation with total solar capacity installed last year (250MW), followed by New South Wales and Victoria (equal 2nd – 170MW each) and then Western Australia and South Australia ( equal 4th – 95MW each). New South Wales leads the way in commercial solar installations by a substantial margin.
Postcode 4740 (Mackay) was the #1 location for installations in Australia during 2014, adding 5.9MW capacity of solar panels.
SunWiz's Warwick Johnston expects 2015 to see good volume of capacity installed that may well exceed that of 2014 – however, the tally will be due to the bigger end of town.
"The utility-scale sector will set records this year, as Flagships, Moree, Mugga Lane & OneSun are delivered…. and then you've got projects like Rio Tinto Weipa, Majura Park, Coober Pedy and other ARENA projects, plus CEFC investments," says Mr. Johnston.
Mr. Johnston warns the residential sector will be very competitive in 2015 as the "low-hanging fruit dries up" and the commercial sector will consequently become more critical to the survival of solar businesses.
SunWiz Consulting provides market intelligence, solar design & engineering and analytical solar consulting services.