The site of the world's worst nuclear disaster is being turned into a solar farm in a striking example of the search for energy self sufficiency.
The Chernobyl nuclear power station, which exploded in 1986, will soon host a 1 MW solar panel array, according to developers.
The new Chernobyl solar farm is located 100 metres from the giant metal dome that sealed in the remains of the nuclear reactor in 2016.
According to developer Solar Chernobyl, the power plant will cover the needs of a medium-sized village, or about 2,000 flats.
The company has spent €1 million ($1.5 million) on the solar farm, which has 3,800 solar PV panels installed across an area the size of two football fields. It's expected the new solar system will pay for itself in seven years.
Chernobyl: the legacy of a dangerous fuel
Reactor Number Four of the Chernobyl nuclear plant exploded on April 26, 1986. The fallout contaminated up to three-quarters of Europe, according to some estimates, especially affecting Russia, Ukraine and Belarus.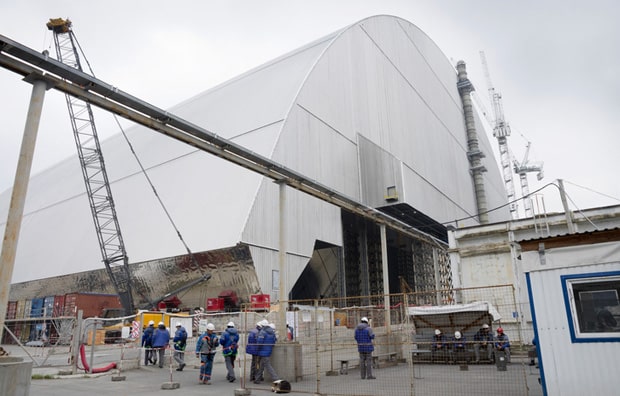 Following the disaster, Soviet authorities evacuated hundreds of thousands of people. The vast 2,000 square kilometre area remains uninhabited.
According to Ukrainian authorities, people cannot return to live in the zone for "more than 24,000 years". Agriculture is also out of the question, as is industry. However, solar panels need little maintenance compared to other forms of power generation and so are a viable option.
Radiation near the solar plant dropped recently to just one-tenth of previous levels. That's due to the containment provided by the dome that now covers the reactor's remains.
Even so, the solar panels are fixed onto a base of concrete blocks, rather than placed on the ground. Because of this they will be less contaminated by radiation, which lessens the risk to maintenance crews.
Ukraine searches for energy self sufficiency

Ukraine is pursuing a number of renewable energy ventures funded by foreign investments. The latest is a solar plant project by the Canadian firm TIU, located in Nikopol, Dnipropetrovsk Oblast.
The 10.5 MW Nikopol solar power plant also represents the first investment to have come in under the Canada-Ukraine Free Trade Agreement, in force since August 1, 2017.
Ukraine's electric power grid is currently 96 per cent synchronized with Russia's, which can cause problems with supply. Ukraine is looking for ways to become more energy self-sufficient, and solar power is a cheap, renewable option.