Don't wait for your old generation of home lighting to burn out – now is a good time to replace your halogen down lights with LED.
LEDs reduce energy usage, slash electricity bills and a good quality LED will light your home for 20 years.
Lighting can account for over 30% of a household's electricity bill. By replacing the old 'hot-to-touch' halogen lights with the energy efficient and cost-effective Light Emitting Diodes (LED) light, you reduce ongoing electricity bills and your carbon footprint.
The new, energy-efficient LED lights operate at much lower temperatures than halogen lamps, are more durable and only use a fraction of the energy.
BRIGHTNESS COMPARISON
Quality LEDs offer a strong, focused light that is equivalent to a halogen lamp but require less power than old technology.
This comparison table shows the energy used (watts) to achieve equivalent brightness (lumens). The more lumens, the brighter the light is.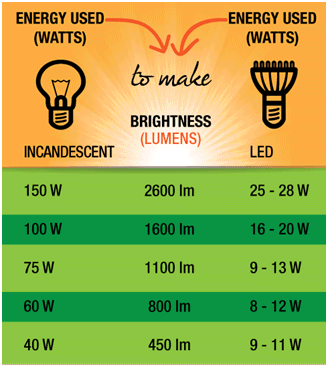 REDUCE ELECTRICITY BILLS & ENERGY USAGE
As electricity prices soar, LED downlights are increasingly popular with both the energy conscious consumer and the budget conscious family.
Use of a 13W LED light generates 68% less CO2 than a standard 40W incandescent bulb. Compared to halogens, LED lights use only 15% of the energy and are comparatively cool to touch, which improves home safety.
The initial purchase cost of LED lights is quickly offset by savings of up to 80% on energy consumption and reduced maintenance costs. There is no need for back-up lighting – LED lights are instantly at full brightness, every time.
LONG-LIFE – 20 YEARS
Replacement globes are almost a thing of the past. Once installed, a quality LED light lasts up to 15 times longer than an average halogen downlight and all things being equal, provides over 20 years of lighting for a living room, kitchen or bathroom.
THE RIGHT LEDs FOR YOUR HOME
Australian energy efficiency solutions provider Ecovantage recommends Brightgreen LED downlights; which are long-life, super-efficient and last up to 70,000 hours.
"The warm, white light is natural, and perfect for task lighting. The 720 lumen has all the brightness of a 50W halogen downlight, on just one-fifth of the power – great for kitchens and studies. The 450 lumen down light is perfect for areas that require a softer light; such as bedrooms, hallways and bathrooms.
Compatible with 99% of transformers and dimmers, there is no comparable LED downlight on the market."
SPECIAL OFFER
Ecovantage will help you replace your old halogens with Brightgreen LED downlights and save up to $600 off your energy bills with each LED downlight installed.