Media Release 20 January 2014 – National solar provider Energy Matters has released consumer insights that rank cities for solar viability and also reveal the true investment potential of solar power systems in comparison to shares, property, gold, global fixed interest or even fine art.
The figures will startle many; with it outperforming all other investment options using current ASX figures and other key organisations that rate investment opportunities.
The consumer insights also revealed Townsville in Queensland was Australia's top address for solar panels, giving its residents a healthy return of investment of 21.8% per year. Other mainland capital cities included Brisbane (annual return of investment of 20.2%), Adelaide (19.1%), Sydney (18.9%), Perth 17.8%) and Melbourne (13.2%).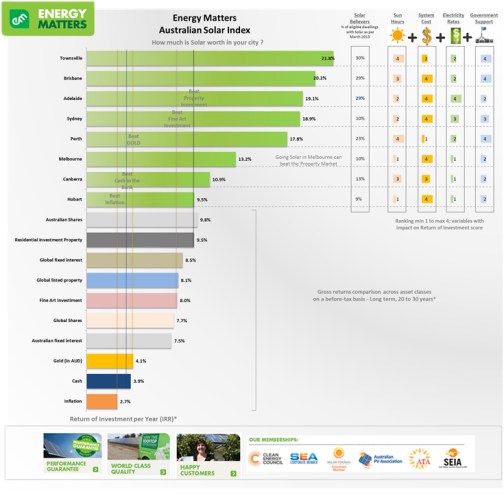 Energy Matters' Australian Solar Index (compact) – click image for larger view
or view full 50-city Australian Solar Index results by
clicking here
.
The figures take into account each city's sunshine hours, the cost of a solar power system for that region, local electricity rates and the region's level of government support.
According to sourced data, Australian shares have returned on average 9.8% per year, residential investment property 9.5%, global fixed interest 8.5%, global listed property 8.1%, fine art investment 8.0%, global shares 7.7%, Australian fixed interest 7.5%, gold (in AUD) 4.1% and cash 3.9%. Putting this all into perspective, the annual rate of inflation is 2.7%.
"Australians are constantly looking for the best place to invest their money, yet these figures show they're overlooking one of the best around, and it's right above their head," stated Nick Brass, co-founder of Energy Matters. "The upside to solar investment is its green credentials. For many clients, this is a strong secondary motivator."
"Our consumer insights also revealed confusion around government support. People think incentives have completely eroded, and nothing could be further from the truth. The government is still supporting it with worthwhile incentives. By installing solar, you are also adding value to your house if you ever resell. That's on top of the yearly return on investment you achieve from the energy you produce," said Mr. Brass.
"For many households, the initial outlay of solar may prevent them from reaping the benefits of this sound investment, but Energy Matters has partnered with a finance company to create an innovative payment plan where, in many cases, there is a zero deposit and the savings each month are greater than the repayments."
About Energy Matters:
Energy Matters is one of Australia's largest companies solely dedicated to solar energy with warehouses around the country and a staff of over 60 people. The award winning business was founded in 2005 and has since installed over 15,000 solar systems on homes, schools and commercial buildings, including Australia's largest privately funded solar photovoltaic project – a 400kW rooftop array in Melbourne. Energy Matters is committed to helping Australians live in a world of energy abundance by providing quality solar power systems at affordable prices. Its nationwide team of passionate and knowledgeable solar advocates, expert installers and reputable brands are the foundation of its success. Energy Matters is 100% Australian owned and sources only products which have been tested in Australia's harsh conditions. With expertise in both grid connect and stand-alone power, Energy Matters is able to provide flexible clean energy solutions to fit almost all needs. To learn more or join the thousands of Australians who have already gone solar, visit www.energymatters.com.au. Australian Credit Licence: 422611.
– The information provided in this article should be taken as a guide only. Your specific financial returns may vary from the examples given and will depend on a number of factors including the nature of your property and your actual energy consumption.
– The index doesn't include all Australian cities; it is a selection from the top 50 cities covered by national retailer Energy Matters and representative of most of different solar market situations in Australia.
– Solar irradiation is based on Bureau of Meteorology long term average data of a specific postcode and weather station for each featured city.
– Government and State support, including STC incentives and current feed in tariff rates are based on our understanding of your current situation and on the current information that has been provided by electricity retailers and the State governments.
– Electricity rates estimations are based on Energy Matters research of 06 -2013 residential market rates. Electricity rates are a result of average rates including GST after standard offered discounts of selected retailers calculated over all different Electricity Distribution Areas. Both market leading premium and low cost retailer offers have been considered. Electricity prices 15 years escalation are based on SKM modelling for the Climate Change Authority 2012 and are calculated on a per state basis and applied to specific cities.
– For the % of eligible dwellings with solar calculation purposes, each featured city represents the SA3 or GCCSA it belongs to as defined by the Australian Bureau of Statistics Statistical Geography Standard (ASGS). Total number of eligible dwellings has been estimated based on the Australian Bureau of Statistics 2011 Census data where dwellings are owned outright, occupied free or owned with a mortgage. Solar penetration per the area is based on Small-scale installations data from the Clean Energy Regulator as per April 2013.
– Internal Rate of Return is calculated over a 15 years period and represents the average IRR of two selected systems from Energy Matters range, a 2kW system and 5kW. A 70% and 50% respectively onsite consumption over total system electricity production has been considered for the purpose of savings estimation. A conservative 15% DC/AC loss has been considered in the savings calculation. System prices are based on Energy Matters National pricing structure as per 11-2013 and are subject to changes. Each installation site requires its own assessment and actual system production and savings will depend on individual circumstances and are likely to be different to any estimates shown.
– Sun hours, system cost, electricity rates and government support rankings are representative of the effect of each variable on the final index value; however the effect on the index weights differently based on specific location and system considered.
– Only systems with quality components and CEC accredited installation has been used for IRR estimation where we can warranty a 15 years long term investment prospective. Eventual necessary maintenance after end of warranty periods has not been considered on the calculation.
– Comparison across asset classes – Sources: ASX Australian Securities Exchange 2012 research; Melbourne Mint – Gold, An Australian Perspective November 2013 Report, Commissioned by Melbourne Mint; University of Wollongong, Australian Fine Art as an Alternative investment, 2005. Investment options represent selected, not exhaustive, possible asset allocation options and are featured only to contextualize the long term potential of solar investments and can't be considered a financial advice in any way.
Related: