Electricity is as ingrained into our day-to-day lives as it gets. From the moment we wake up to the time we go to bed, we're using electricity. It powers our lights, appliances and gadgets; it keeps us cool in summer and warm in winter. We wouldn't want to live without it, but how many of us actually stop to think about where our electricity comes from?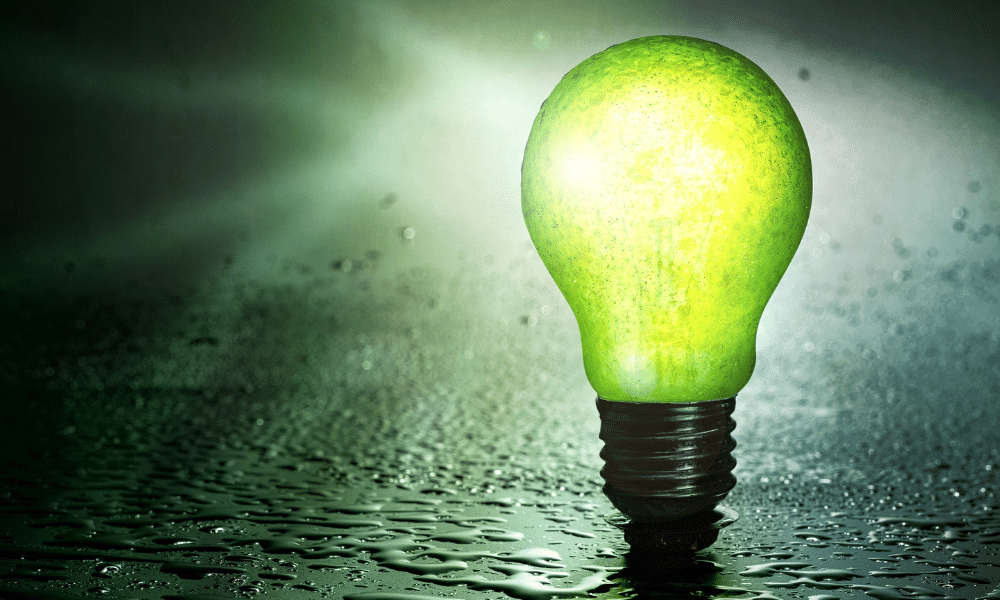 The Dirty Truth
The reality is, energy generation is the largest source of carbon emissions in Australia, largely owing to our reliance on dirty fossil fuels for electricity. In fact, over three-quarters of the country's electricity still comes from the burning of fossil fuels.
Unless we rapidly transition to renewable energy sources, the scientific community has warned that we are hurtling towards a climate disaster. The good news is that we have huge potential to generate clean and renewable energy here in Australia. We are one of the sunniest countries in the world and have some of the best conditions for wind and solar power.
So, how can we accelerate the transition to a green electricity sector?
Vote with your wallet.
Money talks and the most effective way for us to drive Australia's transition to renewable energy is by using our consumer power.
Conscious consumers are already making sure their dollars go to brands that align with their values, such as cruelty-free cosmetics, fair trade coffee and ethically-sourced fashion. When it comes to choosing an electricity retailer, we can do the same thing – make a conscious decision to buy from a retailer that is making strides in investing in renewable energy sources and phasing out fossil fuels.
To do this, we need to know which electricity providers are the greenest.
The Green Electricity Guide Report 2022
The Green Electricity Guide Report 2022 is a fully independent assessment of Australia's electricity retailers to inform consumers about their options for greener power. Produced by Greenpeace in collaboration with the Total Environment Centre, the report assesses and compares 48 electricity providers Australia-wide based on a series of criteria.
Providing clean, renewable energy (weighting 35%)
Ending coal use by 2030 (weighting 20%)
Halting fossil fuel expansion (weighting 20%)
Support for new renewable energy (weighting 15%)
Transparency of marketing (weighting 5%)
Pollution and environmental harm (weighting 5%)
Bonus community provider score (+10%)
Each retailer is then scored to determine a final score out of 10 to two decimal places. This score is then converted into a star rating out of 5.
While we suggest taking the time to read the full report, we've summarised some of the key findings for you below.
Australia's Greenest Electricity Providers
So who are Australia's greenest electricity providers? The following retailers are leading the way when it comes to providing clean and renewable energy, winding down their reliance on fossil fuels and supporting new renewable projects.
Top 10 Greenest Providers
Enova Energy – 5 stars
Diamond Energy – 5 stars
Momentum Energy – 4 1/2 stars
Energy Locals – 4 1/2 stars
Aurora Energy – 4 1/2 stars
Indigo Power – 4 stars
CoPower – 4 stars
Nectr Energy – 4 stars
Amber Electric – 4 stars
Powershop – 4 stars
Australia's Dirtiest Electricity Providers
It may come as no surprise but Australia's biggest polluting electricity retailers are also some of our biggest retailers. These retailers are holding us back from achieving a clean energy future. They rely on highly polluting coal and gas for much of their electricity generation and aren't doing nearly enough to clean up their act.
Top 5 Biggest Climate Polluters
AGL
ActewAGL
Powerdirect
Energy Australia
Origin Energy
Making Greener Choices
Considering Australia's biggest polluters such as AGL have the biggest market share, many of us are unwittingly supporting the climate crisis. So, what can we do about it?
Switch your electricity provider
Switching to a greener electricity provider is the easiest and most effective way to reduce your own carbon footprint and help drive Australia's renewable energy transition. Whether you opt for one of the top 10 greenest or one more middle of the field, it still sends a strong message to the big polluters that you want them to get serious about tackling the climate crisis.
Is green electricity more expensive?
Switching to a green electricity provider might be more expensive than sticking with your current provider, however, there's no one-size-fits-all answer. It depends on your current provider, the plan you choose and where you live. That's why it's important to compare all of your options before making a decision.
It's important to remember that, as the world moves to renewable energy, the cost of renewable energy is getting cheaper. Solar is now the cheapest form of electricity in history, and renewables will only continue to get cheaper over time. 
The cost of fossil fuels however will go up and those providers which continue to rely on fossil fuels will be forced to push these higher costs onto consumers.

Buy GreenPower
Another way to support renewable energy is by using the government-led GreenPower initiative. Under this initiative, retailers agree to offset some or all of customers' power usage by purchasing electricity through accredited renewable generators. 
Unfortunately, the cost of GreenPower is passed onto the consumer – meaning you will have to pay a little more than you would for standard electricity (around 5-10 cents more per kWh). The better option, indeed, would be for electricity providers to invest heavily in renewable energy themselves.
For this reason, it's worth considering switching to a greener provider instead as you may find you get a better deal overall while also supporting long-term investments in renewable energy.
Generate your own clean energy at home
If you haven't already, consider installing solar panels to generate your own clean energy and cut your reliance on the grid. Not only is it a great way to reduce your carbon footprint, but you'll also save money on future electricity bills. It's a win-win.
Not only that, but as battery technology continues to improve and become more affordable, you'll be able to get even more out of your solar-generated electricity. A battery will allow you to use the clean energy you've generated during the day at night or at times when the cost of electricity is high. Many batteries also provide backup functionality during a blackout.
If you would like to learn more about making the switch to solar or want up to 3 obligation-free solar quotes from trusted solar installers in your local area, Energy Matters can help. Simply complete our quick solar quiz and we'll get you on your way.
How does your energy retailer stack up?
Powering Australia is a big responsibility, one that has the potential to make or break our fight against the grim impacts of climate change.
Check out the Green Electricity Guide Report 2022 to see how your retailer stacks up and, if necessary, make the switch today.
Energy Matters is in no way affiliated with the Green Electricity Guide Report 2022