The steel industry is responsible for a staggering 8 per cent of global carbon emissions. With the impact of climate change an escalating concern for policymakers and environmental activists, deep emissions reductions in the steel trade will be essential to meet global emissions targets.
According to some, including Australia's Chief Scientist Alan Finkel, and Australia's richest man Andrew Forrest, the key to a zero-carbon green steel industry is hydrogen.
In 2020, Australia's largest steel producer, BlueScope Steel, generated nearly 12 per cent of the country's manufacturing emissions. Now, Bluescope has flagged their aspiration to transition towards zero-carbon green steel within this decade and reduce total emissions to net zero by 2050. Part of the company's ambituous plans include building a ten-megawatt electrolyser to split water into hydrogen and oxygen.
The catch is that this technology has not yet been proven on a large scale and using current technology would make green steel prohibitively expensive.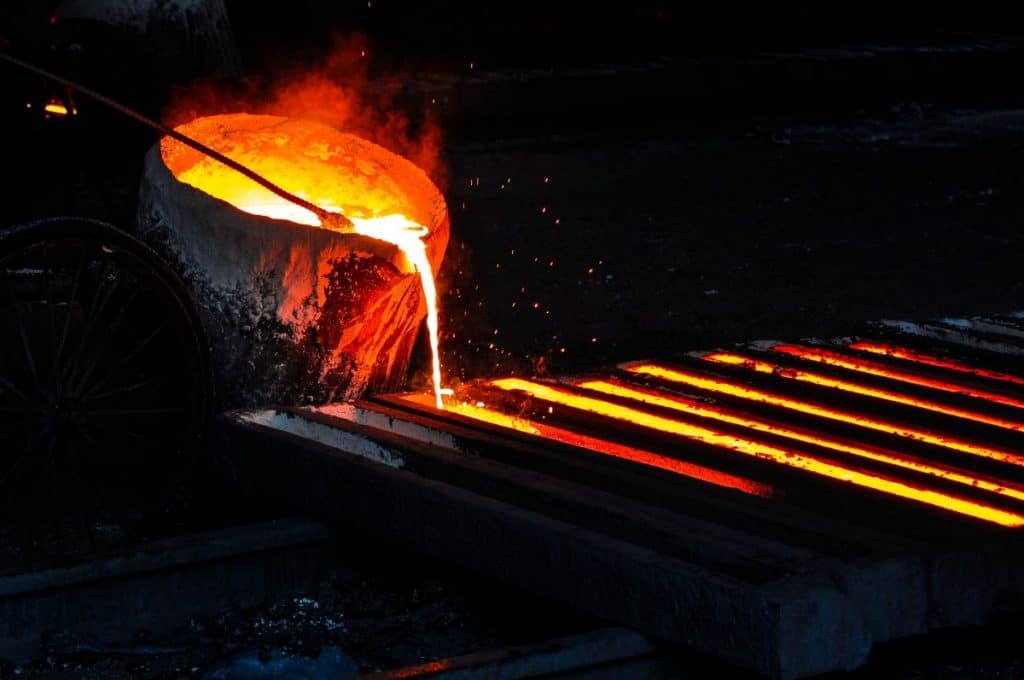 How green steel is produced
Traditional steel-making processes involve first converting iron ore into pig iron, which is then used to make steel. Coke, made from coal, is used in the conversion process, resulting in a significant proportion of CO₂ being emitted.
Green steel is made without creating CO₂ emissions by using fossil-free energy sources, namely hydrogen, as a binding agent instead of coke.
There are two ways in which hydrogen can be used in steel production: as an auxiliary reducing agent in the Blast Furnace-Basic Oxygen Furnace (BF-BOF) route or as the sole reducing agent in a process known as direct reduction of iron or DRI (H2-DRI).
The by-product from making green steel is water vapour rather than large amounts of CO₂.
The long road to green steel
While the use of hydrogen as an alternative to coal sounds like an ideal solution, the challenge lies in the cost to produce hydrogen. Electrolysis and steam reforming, the two main processes of hydrogen extraction, are extremely energy-intensive and expensive. This is the real reason it's not heavily used across the world.
A 2018 study by the HYBRIT project in Sweden, estimated that the cost of green steel will be about 20% to 30% above traditional blast furnace steel.
If Bluescope is serious about achieving its goals, they are going to require a staggering amount of hydrogen. Producing green hydrogen from water using an electrolyser will require up to 15 times the amount of electricity currently used to produce steel at Port Kembla.
BlueScope Steel's head of technologies Chris Page recently told a virtual Town Hall community meeting about the company's goals and the challenges it faces.
"In terms of hydrogen, we are going to need a lot of it," Mr Page said.
"I mentioned a 10MW pilot and said we could use 300MW of hydrogen for the blast furnace."
Currently, the largest electrolyser operating in Australia is just 1.25MW.
"And further if we want to go to [full hydrogen steel production] we are going to need something like 1400MW to do that," Mr Page said.
"To give you an idea of the scale of what we are talking about, today Port Kembla uses a little bit under 100MW of electricity all the time.
"Not only do we need fifteen times what we currently use, it all has to be renewable."

Green steel transition "decades away"
The green steel model has been proven on a small scale by a Swedish company SSAB, which has produced 100 tonnes of steel 5 years after the project commenced. While the world's first fossil-free steel represents proof that it's possible, Mr Page has cautioned that the transition to green steel still has a long way to go.
"It's not going to be a day or a month or a year, it's going to be decades."
BlueScope's new chief executive of climate change, Gretta Stephens, agrees that this a long-term strategy.
"While there's lots of research and development underway, the technology is still decades off," Ms Stephens said.
"It needs this enormous amount of renewable energy and an entire hydrogen industry to be built up, and that's not going to be BlueScope alone doing that."
Could offshore wind be the key?
Offshore wind farms could provide the lion's share of renewable energy required to produce hydrogen, with over a dozen applications already submitted for their construction around Australia.
The Climate Council estimates this electricity will be cheap, abundant, and fossil-fuel free, providing a boost for local manufacturing and a new renewable hydrogen export industry.
Until then, BlueScope will continue to crunch the numbers on its transition plan while other industry players, such as Mr Forrest's Fortescue Metals Group, will pursue their own green steel pilot programs.
Here's hoping the future of steel is bright and green.