The Tathra Community Solar Farm on the South Coast of New South Wales will be opening this week – and it's a rather unique installation.
Solar panels at the Tathra Sewerage Treatment Plant have been arranged to spell the word 'IMAGINE'.
The 30kW installation will generate approximately 34 megawatt hours of electricity annually and contribute around 50 per cent of the power needs of the sewage treatment plant. The clean power station will bring some  welcome relief from the plant's $30,000 annual electricity bills and a portion of the savings will be reinvested in solar panels for community buildings in the Tathra region.
The project was a joint initiative of Bega Valley Shire Council and Clean Energy for Eternity, Inc. (CEFE); with CEFE raising more than $50,000 from members, the local community and the Tathra Mountain Bike Club's annual Tathra Enduro Mountain Bike Race.
Panels for the IMAGINE solar array were purchased by individuals, businesses and community groups for $250 each.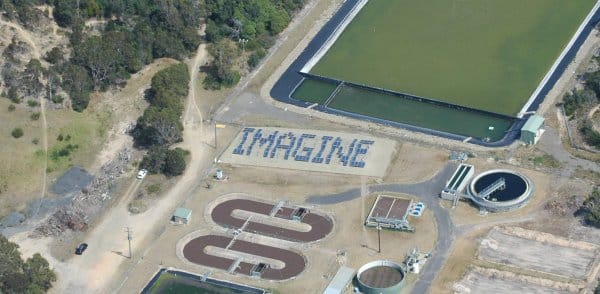 "Council has supported clean energy for a number of years and we are excited that the Tathra Community Solar Farm has come to fruition through the hard work of the local community and Council," said Mayor Michael Britten. Council contributed $25,000 to the project.
Clean Energy for Eternity Inc. was founded in 2006 by Dr Matthew Nott – and this project has been a focus of the organisation since that time.
"This project shows what communities can do with a vision and by building support with other partners. This solar farm is a beacon in uncertain times for the renewable energy industry and our collective action on climate change. It asks us all to imagine a future we want to live in and then make it happen," Dr Nott said.
Engineering, procurement and construction (EPC) services were provided by national solar provider Energy Matters, which has developed many commercial solar installations around the nation. Last year, Energy Matters installed more capacity in the 10-100kW range than any other installer in Australia. A partial portfolio of Energy Matters' commercial scale projects can be viewed here.
The electrical contractors for the project were Lakeside Electrical in Pambula.
The official opening of the IMAGINE solar power plant will occur on Tuesday 24 March at 10am. For further information, call Daniel Murphy on 02 6499 2235.