After a rollercoaster two weeks of speeches, debates, fiery protests, and intense negotiations, the much-anticipated COP26 is over.
So, what did you miss? Was anything actually accomplished? And how did Australia fare on the global stage?
You probably saw some news headlines around the 100,000 protesters and Greta Thunberg's already infamous "blah blah blah" speech; maybe caught a glimpse of Barak Obama's impassioned address encouraging youth action – but like most of us, you aren't too sure what really went down in Glasgow.
The reality is, A LOT happened… more than we could cover in this article. However, we've rounded up some of the most notable highlights, lowlights, and key takeaways from COP26.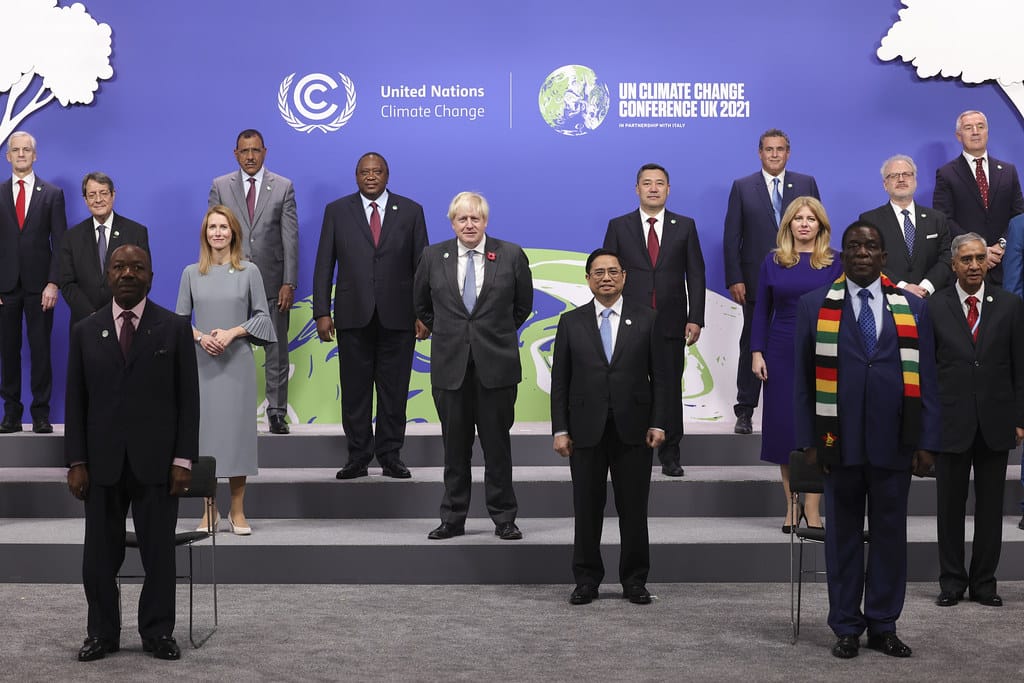 Spectacles, Speeches & Sound Bites
Activists Storm The Summit
Ok, so it probably wasn't as dramatic as the headline suggests, but it was impossible to ignore the almost 100,000 strong crowds of people gathered on the streets of Glasgow passionately calling for faster climate action.
These protests were primarily led by young activists, including indigenous activists and activists from developing nations who have been disproportionately affected by the impacts of climate change and yet haven't had a voice in the negotiations.
Thousands of people across the globe held similar protests in solidarity.
"Like Serving Cigarettes at a Lung Cancer Conference"
The menu for conference delegates has come under fire for serving meat and dairy in almost 60 per cent of its dishes.
Animal agriculture is responsible for 18 per cent of human-produced greenhouse gas emissions, with methane from cattle being the biggest contributor.
Agriculture is also a major factor in deforestation and loss of biodiversity – leading many to question why serving burgers at a summit about the environment is even appropriate.
A spokesperson for Animal Rebellion called it "like serving cigarettes at a lung cancer conference".
Thunberg Condemns and Mocks World Leaders
Swedish activist Greta Thunberg, who first made headlines on the international stage when she was 15, spoke at the protests, dubbing COP26 a "failure", a "PR event," and a "Global North greenwash festival".
"The most affected people in the most affected areas still remain unheard, and the voices of future generations are drowning in their greenwash and empty words and promises," Thunberg declared in her speech. "But the facts do not lie, and we know that our emperors are naked."
In what's already a viral internet meme, Greta ultimately dismissed COP26 as a "Blah, blah, blah", saying the "real work continues outside these halls".
Obama Urges Us To "Get To Work"
Former President Barack Obama addressed his audience with not so much a speech as a rallying cry, urging the millions watching on to collectively and individually "get to work" and inch the world that bit closer to long-term survival.
His speech touched on humanity's flaws and failures, as well as its assets and accomplishments, all leading to where they were now at the Glasgow summit.
The key theme; the transformative power of participation.
When he mentioned the most vital force in the climate movement was coming from young people, there was a tremendous round of applause.
2°C a "Death Sentence"
The Prime Minister of Barbados, Mia Mottley, made a powerful, moving speech on the plight of island nations already facing severe climate-driven impacts, like life-threatening sea-level rise and powerful storms.
She called for greater efforts to remain at 1.5°C, declaring 2°C a "death sentence" for those on small islands and along coastlines.
"We have come here today to say, 'Try harder'".
The impact of climate change on poor and developing nations whose lives are being torn apart by the crisis was a hot topic during this year's summit, particularly the fraught issue of compensation for climate-linked loss and damage.

Pledges, Promises & Pacts
Pledge To End Deforestation
Leaders from 110 nations, including Australia, the U.S., the U.K., Japan, Russia, and Brazil, signed a joint pledge promising to end deforestation by 2030, with a budget of $19.2 billion.
"We commit to working collectively to halt and reverse forest loss and land degradation by 2030 while delivering sustainable development and promoting an inclusive rural transformation," they wrote, as per COP26's website.
Australia's commitment to this pledge is great news and especially encouraging since we are a global deforestation hotspot.
Perhaps the most surprising signatory is Brazil, where almost 11 thousand square kilometres of the Amazon Forest were destroyed last year – the highest level in over a decade. Here's hoping they're as good as their word.
Global Methane Pledge
While CO2 usually cops most of the flack for its contribution to global warming, methane (CH4) is also a powerful greenhouse gas. In fact, over a 20-year period, it is 80 times more potent at warming than carbon dioxide.
Since pre-industrial times, methane has contributed to roughly 30 per cent of global warming, and its impact is growing at a faster rate than at any other time since record-keeping began in the 1980s.
The Global Methane Pledge, launched by US President Joe Biden and European Commission president Ursula von der Leyen, aims to reduce the amount of methane emitted worldwide by at least 30 per cent by 2030. While more than 100 countries signed the pledge (including major emitters Brazil, Nigeria, and Canada), we are deeply disappointed to report that Russia, China, and Australia (all major emitters) sat this one out.
Coal Phase-Out and Fossil Fuel Financing
Perhaps one of the more confusing collection of commitments were around the phase-out of coal-fired power.
More than 40 countries including Poland, Vietnam, and Chile have committed to shift away from coal. But some of the world's biggest coal-dependent countries, including China and the US, refused to come to the party.
In a separate commitment, 20 countries, including the US and the UK, signed a joint pledge to end public financing for "unabated" fossil fuel projects abroad by the end of 2022. Such projects burn fossil fuels, like coal, oil, and natural gas, without using technology to capture the CO2 emissions.
Zero Emission Cars
On "transport day" of the summit the COP26 presidency team announced a new declaration on "accelerating the transition to 100 per cent zero-emission cars and vans".
Under the agreement, which is non-binding, participating countries, cities, car manufacturers, and other organisations committed to "work towards all sales of new cars and vans being zero emission…globally by 2040 and by no later than 2035 in leading markets".
Signatories include the UK, Canada, Norway and Chile, along with Ford Motor Company, General Motors, Jaguar Land Rover, Mercedes-Benz and Volvo. A further group of countries, including India and Kenya, have agreed to "work intensely towards accelerated proliferation" of zero-emissions vehicles.
While Australia did sign the agreement, the federal government's recently announced "Future Fuels and Vehicles Strategy" will only lead to 30 per cent of all new car sales being electric by 2030 – not exactly the "new normal" that the agreement is calling for. Many other leading markets, including the US (who have not yet signed the agreement), have far more ambitious targets, aiming for at least 50 per cent electric vehicle sales by 2030.
Unfortunately, some major car manufacturers and countries (Germany, China, and the US) aren't yet on board, leaving vehicle emissions targets hanging in the balance. Germany's reasoning for not joining was that it wanted to pursue the option of "synthetic fuels" with a lower carbon content.

US-China Agreement
The world's two greatest polluters, China and the US, announced a partnership to reduce emissions in the coming decades. The deal is vague, but considering the history of tension between China and the United States, it appears to be a positive outcome.
Glasgow Climate Pact
In the final hours of COP26, countries negotiated the Glasgow Climate Pact, designed to "keep 1.5°C alive" by reinforcing more ambitious action and finalising the Paris Agreement rulebook.
The pact is the first agreement in COP history to explicitly identify coal as a climate change culprit.
Analysis by Climate Action Tracker suggests that current policies put us on course for a 2.7°C world. Following the summit, this has been adjusted to 2.4°C, although an extremely optimistic reading could bend the curve to 1.8°C. While this is better, it still isn't enough to disrupt the devastating effects of climate change or satisfy the "well below" 2°C target of the Paris Agreement.
In an effort to close this gap, the Glasgow Climate Pact requests another round of national climate plans – both stronger 2030 targets and long-term strategies – next year.
How much it can close the gap depends on which governments heed the call – with Australia for one quick to assert its 2030 target was "fixed".
Disappointments and "Damp Squibs"
India and China Weaken Glasgow Climate Pact
In the hour before the closing plenary session, there was frantic last-minute wrangling among ministers to amend the Glasgow Climate Pact. The final change, proposed by India and China jointly, was the only amendment made to the deal.
This 11th-hour intervention weakened the effort to end coal power and fossil fuel subsidies by watering down the wording to "phase down" rather than "phase out" coal.
No "Climate Reparation" for Loss and Damages
While developing countries fought hard for dedicated funding to those who lose their lives and livelihoods as a result of climate change, the US and EU blocked a proposal for a funding facility dedicated to the issue.
Instead, they conceded to establish a Glasgow Dialogue "to discuss the arrangements for the funding of activities to avert, minimise and address loss and damage associated with the adverse impacts of climate change."
So, in other words, more talk and no real action.

Australia's Performance in Review
Australia a "Colossal Fossil" and "Climate Laggard"
Unfortunately, despite all the calls for greater ambition, Australia has chosen to dig in its heels and cop out of COP26.
In both global and local media, Australia is being called out for being a "Colossal Fossil" and "Climate Laggard", acting as a hazardous handbrake to the progress that is so desperately needed to secure the future of our planet.
At almost every turn, Australia has refused to budge on its weak and flawed climate policy. Australia's current 2030 emissions reduction target, which was set six years ago, has been rated the weakest in the developed world.
Prime Minister Scott Morrison, in his much-maligned COP26 address, bragged about how Australia will exceed their 2030 Paris commitment – failing to acknowledge that, if so, this will be on the backbone of state initiatives and that a far greater result could be achieved if the federal government stepped up and took the lead in its role.
With no meaningful targets, new coal mines on the cards, and a refusal to accept that fossil fuels have no future in Australia's energy mix, the country is being slammed for standing still while the rest of the world moves forward with action on climate change.
Australia's stance is simply not good enough.
We have so much to lose from climate inaction – from the increase of deadly heatwaves, to severe droughts and bushfires… not to mention our economic future in a rapidly transitioning world economy.
Just like it is too late to say sorry to the Great Barrier Reef, we can't afford for our leaders to be saying sorry on climate change.
We need ambition and action… And we need it now.
Are We "Still On The Road To Hell"?
With all the ups and downs of COP26, not least our own country's failure to make a mark, you might be wondering if the summit actually achieved anything.
The answer will vary depending on who you ask, but it's fair to say that if it wasn't the giant leap we were hoping for, it's certainly a step in the right direction.
The Glasgow Climate Pact set out next year's agenda, but now the real work begins – with each country expected to bring further emissions cuts to the table at COP27 in Sharm El-Sheikh, Egypt next year.
This will be vital – as without progress on ratcheting up ambition over the next year, it will be even harder for us to be able to say we're on track to end fossil fuels and limit temperature rise within 1.5°C.
For every small win and ounce of momentum gained in Glasgow, we can't afford for it to fade into nothing. We've got another year to push harder than ever before.
As Australians, the only way forward is for us to stand together and demand that our elected leaders take urgent action at home that matches the scale of the problem.
The Climate Council has launched a petition calling for the Australian government to cut emissions this decade. You can read and sign the petition here.
Did you know installing solar panels on your home helps combat greenhouse gas emissions and reduces our collective dependence on fossil fuel? Energy Matters has assisted over 30,000 Australians in their transition to clean energy. We can guide you toward a solar and/or battery storage solution that fits your lifestyle and budget. Receive up to 3, obligation-free quotes from our trusted network of accredited solar installers. It's fast, free, and takes the hassle out of shopping around.