The award-winning Sunny Boy Storage 2.5 from Germany's SMA is providing added options for Australians wanting to install battery systems.
Originally announced in January and unveiled in February; this much-anticipated and clever battery inverter is now available in Australia from solar and storage provider Energy Matters.
Weighing just 9 kilograms and compatible with all (SMA approved) high-voltage lithium-ion batteries, the Sunny Boy Storage is particularly well suited in Tesla Powerwall retrofits to existing solar power systems.
With a charge and discharge power of 2.5 kW, the Sunny Boy Storage offers an AC-coupled solution with a very high efficiency level (97%). The battery inverter is the most economical AC-connected system on the market according to SMA.  It can be integrated into an existing PV system without the need to remove other components..
"Whether in new or existing PV systems, we still haven't come across a situation for which this product isn't suitable," said Volker Wachenfeld, Executive Vice President of the SMA Offgrid & Storage business unit in April.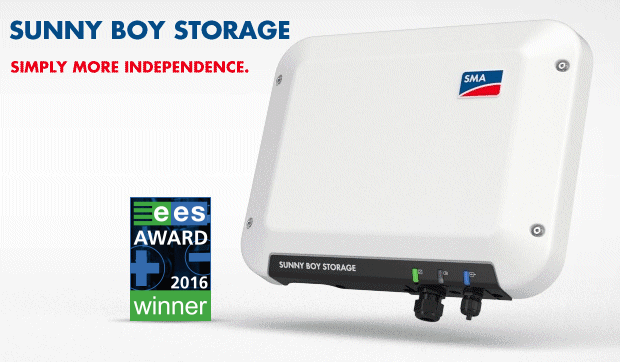 In late June, the battery inverter won SMA a coveted ees Award. The award, introduced at Intersolar Europe 2014, recognises innovative products and solutions for electrical energy storage.
As a special introductory offer, Energy Matters is currently providing $400 cash back on SMA Sunny Boy Storage + Tesla Powerwall systems; either as part of a full solar + storage package or as a retrofit solution.
For further information on SMA Sunny Boy Storage 2.5 and pricing, Energy Matters can be contacted on 1800-EMATTERS. A datasheet with specifications can be downloaded here (PDF).
It's been another busy and fruitful year for SMA. In addition to the ees Award, the company also won another Intersolar Award for a photovoltaic diesel hybrid system installed on the Caribbean island of St. Eustatius. Also in June, SMA's India subsidiary won that country's 2016 National Excellence Award for Rooftop Solar Power Projects in the category of PV inverters.
SMA is celebrating 35 years of operations in 2016 and to date, more than 35 gigawatts of SMA products have been installed globally.
SMA solar inverters have been a popular choice for Australian commercial and home solar power systems for many years.