More than 23 million solar panels are installed in Australia and 222 gigawatts+ of PV modules are in place globally. This will present a significant business opportunity in recycling says the International Renewable Energy Agency (IRENA).
Reduce, reuse, recycle are the 3R's of sustainability. The concept applies to "green" products such as solar modules as much as any other. While good quality solar panels have a lifespan of decades; they will ultimately wind up as waste.
A report released earlier today by IRENA and the International Energy Agency's Photovoltaic Power Systems Programme (IEA-PVPS) states solar panel waste could total 78 million tonnes globally by 2050.
Even by the end of this year, the cumulated PV waste stream is expected to have reached anywhere from 43,500-250,000 metric tonnes.
Solar panel waste only accounts for a tiny percentage of global e-waste now, but by 2050, the amount of PV waste added annually could exceed 10% of the record global e-waste added in 2014.
It presents a major challenge, but also a multi-billion dollar opportunity as most of the materials in a solar module can be reclaimed. By weight, a solar panel mainly consist of aluminium, glass and silicon. More than 90% of a module's weight can be recycled into more solar panels or other items – and it can be done at a profit.
"If fully injected back into the economy, the value of the recovered material could exceed USD 15 billion by 2050," states IRENA.
"This potential material influx could produce 2 billion new panels or be sold into global commodity markets, thus increasing the security of future PV supply or other raw material-dependent products."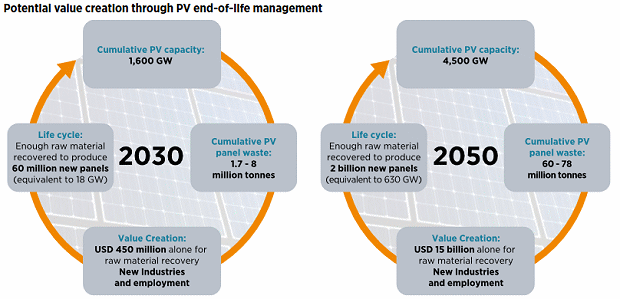 In addition to reclamation of materials, early failures in solar panels present repair and reuse opportunities. Once repaired and offered at a reduced price, the panels could be particularly useful in developing nations with limited financial resources.
Recycling of solar panels could also prevent hazardous materials such as indium, gallium, selenium, cadmium, tellurium and lead contaminating the environment.
Currently, only the European Union has PV-specific waste regulations in place – something that needs to change according to IRENA.
"With the right policies and enabling frameworks in place, new industries that recycle and repurpose old solar PV panels will drive considerable economic value creation and will be an important element in the world's transition to a sustainable energy future," said IRENA Director-General Adnan Z. Amin.
The report, "End-of-Life Management: Solar Photovoltaic Panels" can be downloaded here (PDF).