Solar inverter system manufacturer SolarEdge recently announced its StorEdge solution, compatible with the Tesla Powerwall battery, is now available in a number of countries.
StorEdge, based on a single inverter, manages and monitors solar electricity generation, use and storage.
In May last year, the company announced a collaboration with Tesla Energy to develop a new Powerwall-compatible inverter; plus the ability to upgrade existing SolarEdge systems to work with the revolutionary battery system.
Last week, SolarEdge said the StorEdge system is now available in Australia, Europe, South Africa, and the United States.
The full StorEdge system is comprised of number of elements – power optimizers that are attached to each solar panel, the inverter, a modbus meter, StorEdge interface and cloud-based monitoring portal. A power optimizer works with an inverter to address some of the issues with conventional inverters; enabling maximum energy harvesting from an array.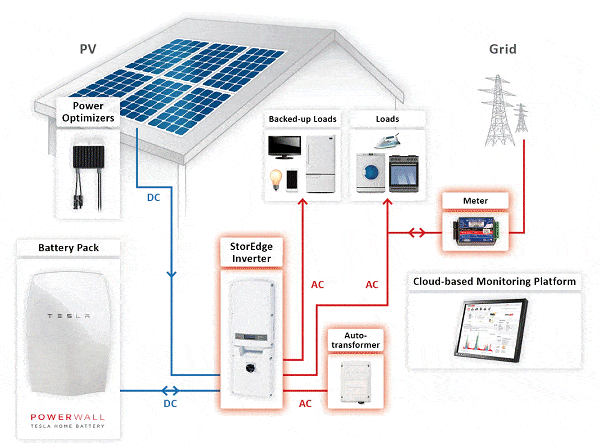 Since it commenced commercial shipments in 2010, SolarEdge has shipped approximately 2.1 gigawatts of its DC optimized inverter systems, with installations in more than 88 countries. More than 8,000,000 power optimizers and 340,000 SolarEdge inverters have been shipped worldwide.
SolarEdge says those using StorEdge "benefit from higher generation, higher efficiency, simple design, enhanced safety, full monitoring, and easy maintenance."
StorEdge could attract significant interest as it's one of the few Powerwall-ready solutions currently available. The company says any SolarEdge solar inverter manufactured after 2013 can be upgraded with StorEdge.
"With the evolution of the solar energy market and subsidy programs, innovative solutions are increasingly necessary to create synergy between distributed solar energy and storage," stated Lior Handelsman, SolarEdge's VP of Marketing and Product. "As a top global inverter company, SolarEdge is committed to contributing to a thriving solar industry by offering products, such as StorEdge™."
In October last year, SolarEdge won the Best Industry Innovation award for its StorEdge solution in the Solar Power Portal Awards.
Australians wanting to buy Tesla Powerwall battery systems featuring SolarEdge technology can do so via  Energy Matters and SunEdison Australia, Tesla Energy Authorized Resellers .
Related:
Microinverters vs. Power Optimizers.
Australian Home Battery System Guide