For many years Australians have regarded gas as a cheap, efficient option for winter heating, hot water and cooking. Times have changed, however, with gas prices skyrocketing and the efficiency and performance of electric appliances improving dramatically. With the widespread uptake of solar PV systems, there's even more reason to ditch gas and electrify your home. Whether you're building or in an established mixed-fuel home, opting for an all-electric home saves you money in the long term, is safer, healthier for you and your family and can be cleaner for our environment.
In this article, we'll delve into the top 3 reasons why you should consider an all-electric home.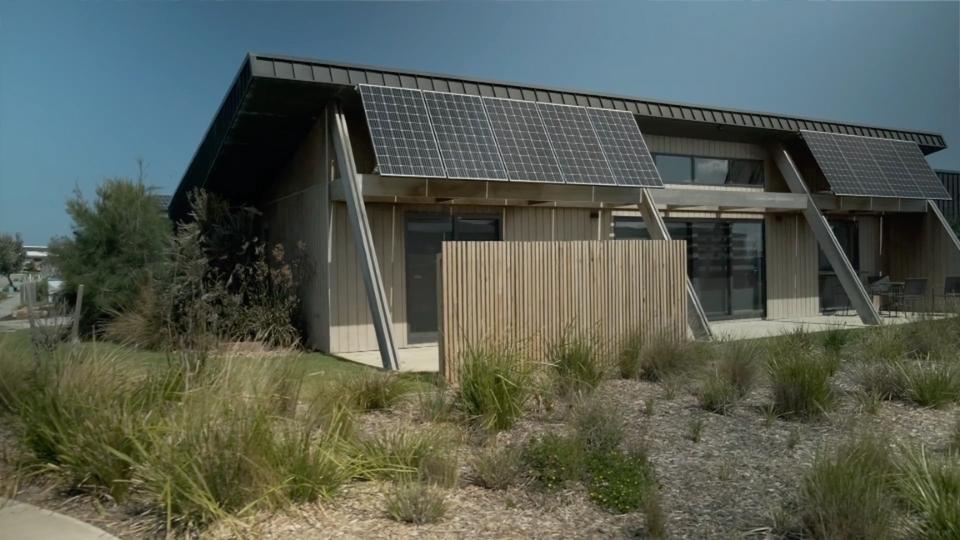 It can save you money – with or without solar!
An all-electric, solar-based home can save owners between $9,000 – $16,000 over 10 years compared to a gas-electric home with no solar, according to The Household Fuel Choice in the National Electricity Market report. Despite marketing campaigns to the contrary, gas is more expensive, as well as less energy efficient than electricity in modern appliances.
Even if you don't have solar panels on your roof, studies show your energy bills will be lower if you replace inefficient gas appliances with modern electric ones. The National Electricity Market report found that replacing an old gas space heater with a high efficiency, electric reverse-cycle air conditioner and using it on heating mode in winter will save households a lot of money on energy bills.
A case study undertaken by Sustainability Victoria this year analysed annual performance data on gas and electric appliances without the associated benefits of solar. The study showed that efficient electric appliances were still overall cheaper to run than efficient gas appliances.
The data speaks for itself – disconnecting your home from mains supplied gas grid could save you hundreds each year in gas connection and supply charges.
New build vs established mixed-fuel homes
If you're considering a new build, the upfront cost of going all-electric compared to mixed-fuel is negligible and most certainly worth it in the long-term, especially if you're installing solar panels.
Established households with solar PV systems can get more out of their solar electricity by switching to energy-efficient electric appliances.
If you already have an established mixed-fuel home, it may not be economically feasible to replace major appliances all at once, but it's worth budgeting for it over a number of years and planning ahead.
If you don't already have solar installed, the business case for going solar while transitioning to an all-electric home is compelling. Getting solar panels first may be the best option, as you can reap the benefits of immediate savings on your energy bills that will continue to increase as you upgrade your appliances.

It's safer and healthier for you and your family
While all energy systems carry some level of risk, modern electrical systems are generally safer than gas systems. This is because gas, by its very nature, has hazards that cannot be completely eliminated, even with the inbuilt safety features of modern systems.
These hazards include exposure to naked flame (the major source of kitchen fires), carbon monoxide poisoning from poorly maintained or faulty equipment, gas leaks/explosions and potential gas quality problems (if the gas transmission system is not operated correctly).
Electric appliances and heaters are also better for your health and wellbeing.
A new report released by the Climate Council, Kicking the Gas Habit: How Gas is Harming Our Health links using gas cooktops and heaters to a range of health risks, including asthma and other respiratory issues.
When gas is burned, it releases a number of substances that can be harmful to human health including carbon monoxide, nitrogen dioxide and formaldehyde, as well as extremely small particles that can pass through the nose and throat and enter the lungs known as fine particulate matter and ultra-fine particles.
"Just as doctors spoke up on the dangers of asbestos and tobacco in the past, we have a responsibility now to sound the alarm on the dangers of gas," says Climate Council spokesperson and report author, Dr Kate Charlesworth.
Another report released last year in the US found that homes with gas stoves have about 50 percent to 400 percent more nitrogen dioxide concentration than homes with electric stoves.
You can achieve a zero net carbon home
With the current climate crisis, many of us are looking to reduce our carbon footprint. Building or transitioning to an all-electric home is the simplest way for households with solar panels, or thinking about installing them, to get their house on the path towards zero net carbon.
Zero net carbon homes release no net carbon dioxide into the atmosphere during their operation. This means that over a year, the home's energy use from carbon-emitting sources will be equal or lesser to the amount of renewable energy it produces.
If you aren't able to cover the difference and want to achieve zero net carbon status, there's also the option of purchasing 100% GreenPower from an electricity retailer which is approximately 4 to 8 cents per kWh on top of your current electricity rate.
Adding a solar battery that stores and releases solar-generated energy at night will further lower your reliance on the grid and give you greater energy independance – although the technology is still quite costly in Australia.
For some great tips, ideas and inspiration for energy-efficient home designs, read our episode recaps for Renovate or Rebuild Season 1 available in our Renewable News section.

Still not sure?
The move to an all-electric home might seem like a big step – maybe even a little unconventional – but it's an achievable and increasingly popular option for households across the country. You don't need to make the transition all at once either, but as you upgrade your appliances and install solar, taking the all-electric route is a great way to reduce costs and carbon emissions.
All-electric homes offer great advantages over mixed-fuel including lower energy bills, greater comfort and convenience as well as health and safety benefits that shouldn't be overlooked.
If you're one of the over 3 million Australians with solar panels on your rooftop or are considering installing them in the near future, then an all-electric home is the best way to maximise your return on investment and reduce your reliance on fossil fuels.
Considering solar? We can help.
Energy Matters has assisted over 30,000 Australians in their transition to clean energy. We can guide you toward solar and/or battery storage solution that fits your lifestyle and budget. Receive up to 3, obligation-free quotes from our trusted network of accredited solar installers. It's fast, free, and takes the hassle out of shopping around.