As Tesla Powerwall did with home energy storage, Powerpack heralded a new era in commercial-scale battery storage. The new Tesla Powerpack 2 builds on this success with more than double the storage capacity and other enhancements.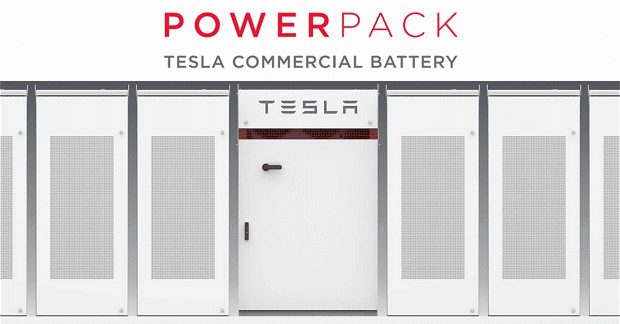 Already nearly 300 MWh of Tesla batteries have been deployed globally.
The Tesla Powerpack 2 battery system combines lithium-ion batteries, leading electronics, thermal management and controls into a robust and cost-effective turnkey solution. It enables businesses to take more control of their energy costs and make the most of their solar power system installations.
Powerpack 2 represents the culmination of more than 10 years of Tesla's experience in producing integrated battery systems.
This energy storage solution features a high volume, robust and reliable architecture; tested over the 1.6 billion kilometres driven in the highly-acclaimed Tesla Model S.
A dual coolant and refrigerant loop system, superior to air-cooling, and sturdy housing ensures maximum performance and durability in Australia's often harsh conditions.
Flexible, Scalable
A flexible commercial energy storage solution, the Powerpack battery system can be scaled and adapted for a variety of installation scenarios; from 100kWh to 100MWh+ configurations in 250kWh increments. Learn more about Powerpack 2's features – contact us online or call our storage experts on 133-SUN.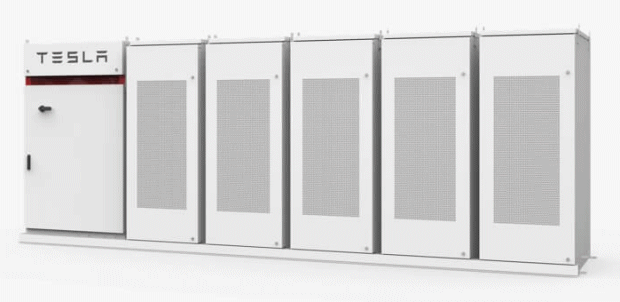 Tesla Powerpack Battery System Benefits
Tesla Powerpack offers many compelling benefits to businesses, including:
Load Shifting: Shift mains electricity consumption time-of-use and avoid high electricity prices.
Slash Demand Charges: Peak demand charges can make up a significant portion of a business's electricity bill. Powerpack can enable significant peak shaving.
Demand Response: The power your operations need, when you need it
Maximise Solar Returns: Make the most of your rooftop solar power generation and minimise solar electricity exports.
Emergency Backup: Backup power capabilities during interruption to mains grid supplies.
Microgrid: As part of a microgrid, Tesla Powerpack 2 can boost energy independence.
Electricity Market Participation: Provide services to utilities as these opportunities develop.
Defer infrastructure upgrades: Reduce, defer or eliminate costs to upgrading other energy supply infrastructure.
Tesla Powerpack 2 Enhancements
Twice the energy density of the original Powerpack.
More seamless integration into the grid.
New inverter, designed by Tesla and manufactured – highest efficiency and power density utility-scale inverter on the market.
Enhanced Powerpack system interface and software controls.
If you're interested in learning more about the benefits your business could reap from Tesla Powerpack 2 or commercial energy storage generally, contact our business battery system experts on 133-SUN or via this contact form.
Tesla Powerpack 2 + Energy Matters – A Powerful Combination
We are an Australian-wide Tesla Energy Authorised Reseller, with a team of experienced Tesla Certified Installers. Founded in 2006, few companies in Australia have Energy Matters' experience in designing and installing battery systems.
Contact one of our energy storage experts on 133-SUN or via our contact form to discover more about why Energy Matters is the best choice for your Tesla Powerpack 2 battery installation.
Telsa Powerpack 2 Specifications
Energy Capacity
210 kWh (AC) per Powerpack
Peak Power

50 kW

Depth of Discharge
100%
Efficiency*
88% round-trip (2 hour system) and 89% round-trip (4 hour system)
Operating Temperature Range
-30C to 50C
Battery Chemistry
Lithium-ion
Powerpack Enclosure
IP35 – outdoor rated
Dimensions
Powerpack
Length: 1,308 mm
Width: 822 mm
Height: 2,185 mm
Weight: 1622 kg
Industrial Inverter
Length: 1,014 mm
Width: 1254 mm
Height: 2192 mm
Weight: 1200 kg
Site Master Controller
Length 229 mm
Width: 453 mm
Height: 499 mm
Weight: 14 kg
Communications Protocols
Modbus TCP, DNP3
Certification
Tesla Powerpack is compliant with relevant Australian safety and electrical standards
* Net Energy delivered at 25°C ambient temperature including thermal control