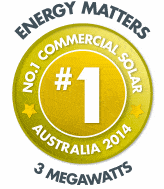 Our solar partners power systems have a track record of outperforming industry benchmarks. They deliver on time, on budget and to specification as evidenced by our many happy clients across the country; including Sydney, Melbourne, Brisbane, Adelaide and Perth.
In the first half of 2014, we installed more capacity in the 10-100kW range than any other installer in the nation.
Our commercial solar division covered solar panel based power systems installed on the rooftops of businesses, schools and community organisations throughout Australia. Our capabilities spanned from 10 kilowatt arrays to multi-megawatt projects.
Any business with a large roof space could reap the rewards of installing a commercial scale solar power system. You only need a minimum 200m2 of free roof space, unimpeded and unshaded; with preferably a northerly aspect.
Zero capital outlay arrangements are also available under our leasing and Power Purchase Agreement (PPA) , plus other financing options.
Today, Energy Matters is partnered with some of the countries leading Commercial Solar Installers, submit a request for a quote HERE.
Find out how much solar can save your organisation
Call our Commercial Team on 1800 EMATTERS (1800 362 883)
Why go solar?
There are many good reasons to install a commercial scale solar energy system. Here's just a few.
Economic
The price of commercial solar power has dropped dramatically over recent years, while electricity prices have skyrocketed – and the price hikes may continue.
With a commercial PV system, generate electricity at a lower cost than purchasing from a utility by harvesting the power of the sun!
If you are paying more than 15c/kWh for your daytime electricity usage, a system sized to your daytime load will provide a payback time of between 5 and 7 years – after which time, the electricity you generate is essentially free.
In addition to outright purchase, we also offer other options – solar leasing and Power Purchase Agreements (PPAs). Your organisation can benefit from solar with zero capital outlay. These arrangements are also backed by a solid performance guarantee.
With solar panels having a serviceable life of decades, going solar translates to a huge reduction in your medium to long term operational costs.
Generate revenue by selling your plant's power to your building's tenant or to electricity retailers.
Increase the value of your building by improving your NABERs/Greenstar rating.
Government solar rebates, grants and tax breaks are available
Social and promotional
Enhance your brand's credibility via system visibility, EM launch events and data monitoring LCD displays somewhere prominent in your building.
Environmental
Generate clean, green energy for decades . Solar panels used by Energy Matters partners such as REC Solar modules have low embodied energy of less than 12 months, meaning that the life-cycle environmental impact is minimal.
Why choose Energy Matters?
Energy Matters has a proven track record in the technical space and commercial solar plant offerings. We're the company behind the country's leading solar panel racking system, Sunlock; designed and made right here in Australia.
Energy Matters was also the first company in Australia to initiate a commercial solar rooftop leasing program; removing the up-front cost of benefiting from PV technolgoy.
Here's some more good reasons to trust Energy Matters partners as your commercial solar power partner.
Constant product research – we are always assessing value for money based on long-term performance and work with the world's leading suppliers of components.
In-house engineers – seasoned industry professionals.
Extensive experience in all types of installations, from the straightforward, to incredibly complex. The following are some of the commercial solar case studies relating to arrays we've installed:

University of Wollongong – 150kW. Installed on the Sustainable Buildings Research Centre building. A finalist in the CEC's 2014 Solar Design and Installation Awards
NEXTDC M1 Data Centre – 400kW. The largest privately funded rooftop solar power system in Australia
BUPA Aged Care – 4.7MW+. Australia's largest distributed commercial solar project.
Other high profile customers include Australia Post, Melbourne Water, Coles Supermarket, Victoria University, RMIT and University of Southern Queensland.

The largest installer of 10-100kW systems in the nation during the first half of 2014 (SunWiz Consulting Australian PV Market Insights January 2015)
Solar PPA, leasing and financing options available; reducing or removing the up-front cost.
Interested? Next steps
Call our Commercial Sales Team on 1800 EMATTERS (1800 362 883) or alternatively use our quote form to register your interest and find out more about the cost involved.
If you have a rooftop, we may be able to help make it pay! Most states offer solar feed in tariff programs and some have been expanded to include medium scale solar farms.