Founded in Norway in 1996, REC is a leading vertically integrated solar energy company.
Through integrated manufacturing from silicon to wafers, cells, high-quality panels and extending to solar solutions, REC provides the world with a reliable source of clean energy. REC's renowned product quality is supported by the lowest warranty claims rate in the industry.
REC is a Bluestar Elkem company with headquarters in Norway and operational headquarters in Singapore. REC employs around 2,000 employees worldwide, producing 1.5 GW solar panels annually.
REC solar panels – both Peak Energy and Twin Peak series – are a popular choice for solar power systems installed on Australian rooftops – both residential and commercial.
REC Solar Panels – Major Benefits
Repeatable High Quality
Industry-leading low claims rate
Low temperature co-eciency.
PID-degradation free.
Industry leading warranties
Solid warranty, stable and well-established company.
Ammonia and salt mist corrosion resistance.
Tier 1 solar panel producer.
Fully automated production cycle, reducing sources of variation in production.
Extensive quality testing – numerous checks throughout the production cycle.
Extremely low failure rate.
Financially strong company.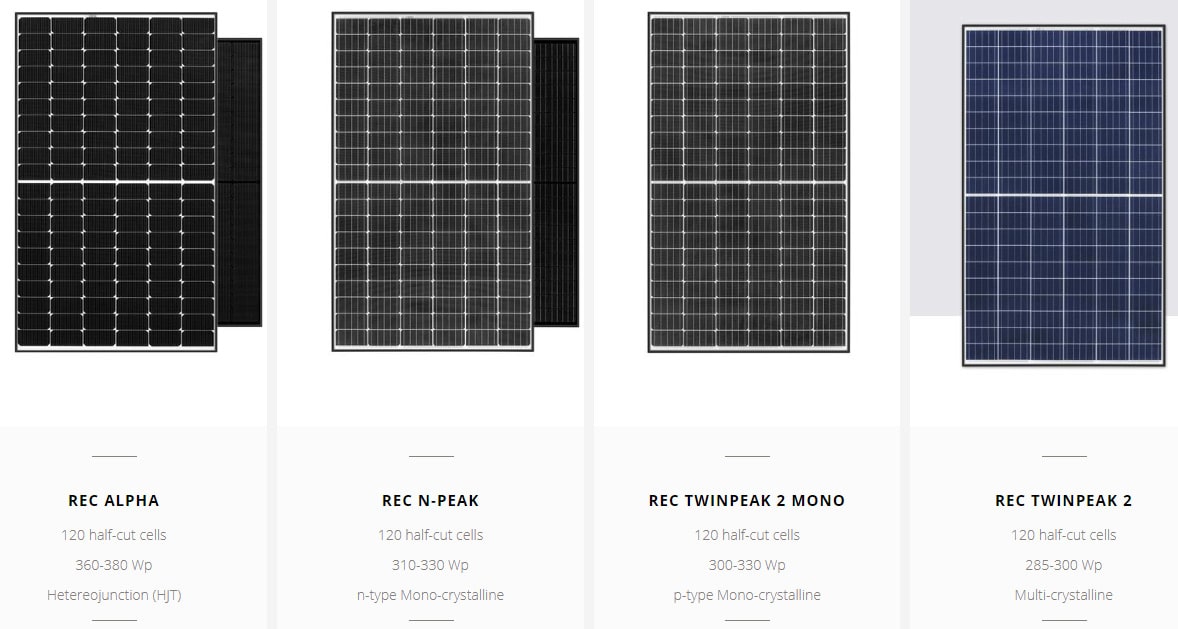 NEW! – REC Alpha 380w Panels now Available!
This is the REC Alpha; the world's most powerful 60-cell solar panel, empowering you to take full advantage of solar energy. With 380 Wp power and impressive 217 W/m², REC Alpha delivers over 20% more power, making it the panel of choice for rooftop owners who seek the best. How does REC do it and what does it mean for you?
More On REC Solar Panels
REC Solar panels deliver more power per square meter thanks to a number of design improvements. These include the introduction of three bus bars and superior contact between the cell and metal fingers, boosting the electrical flow.

Industry-leading warranty
25 year product warranty*: covers any panel defects
25 year performance warranty: ensures panels perform exactly as they're expected to  every year for 25 years
25 year labor warranty*: gives added protection in case a panel needs to be serviced
At least 92% of nameplate power in year 25; an industry best
Unprecedented savings, more economic security, and greater energy autonomy for consumers
* when installed by a REC Certified Solar Professional installer; part of the REC ProTrust Warranty
REC Solar Panel Enquiries
Energy Matters can supply REC solar panels to residential and commercial customers as part of full systems. We also supply REC modules to installers throughout Australia via our  wholesale distribution channel.