Founded in Norway in 1996, REC has grown to become the largest European brand of solar panels. More than 20 million REC solar panels have shipped to date (late 2016), representing  5GW+ of capacity.

REC solar panels – both Peak Energy and Twin Peak series – are a popular choice for solar power systems installed on Australian rooftops – both residential and commercial.
REC Solar Panels – Major Benefits
More power per square metre than other polycrystalline panels.
Positive watt class rating.
Low temperature co-efficiency.
Industry leading energy payback time of 1.2 years (Peak Energy).
Solid warranty, stable and well-established company.
Ammonia and salt mist corrosion resistance.
Tier 1 solar panel producer.
Fully automated production cycle, reducing sources of variation in production.
Extensive quality testing – numerous checks throughout the production cycle.
Extremely low failure rate.
Financially strong company.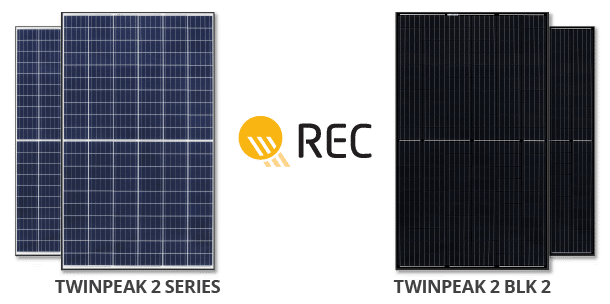 NEW! – REC Twin Peak Solar Panels Now Available
Solar panel manufacturers are all chasing split cell technology, with R&D heavily invested in launching products into the market as soon as possible. But why? And what on earth is a split cell?
A split cell is a standard solar cell that has been split into two equal pieces. In doing so, the current generated by each cell is halved, resulting in a reduction of resistance and thus a reduction in power loss. To put it another way, the end result is a more efficient solar panel that also offers enhanced performance in partial shading scenarios.
REC Solar, in typical fashion, are ahead of the curve with technology development and already have split cell technology available in Australia via their Twin Peak module. Coupled with the benefits of Passivated Emitter Rear Contact (PERC) technology, the REC Twin Peak module is among the most advanced available in Australia today.
More On REC Solar Panels
REC Solar panels deliver more power per square meter thanks to a number of design improvements. These include the introduction of three bus bars and superior contact between the cell and metal fingers, boosting the electrical flow.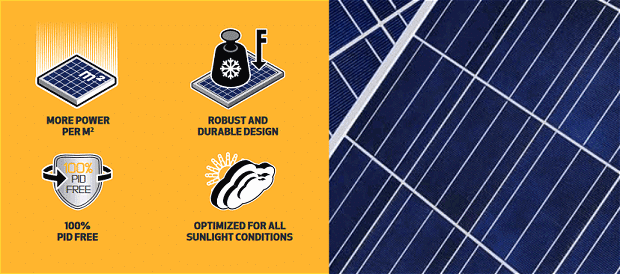 Special glass etching and anti-reflective coating used by REC also improves the power output of the Peak Energy and Twin Peak Series in all sunlight conditions. With REC solar panels, you can make better use of your valuable rooftop real estate.
REC solar panels offer temperature coefficient ratings that are among the best in the industry for this panel type.
In typical polycrystalline solar modules, the rate of degradation is approximately 0.5% per degree Celsius for temperatures above 25C. REC have decreased this to 0.39%/C – 0.4%/C – ahead of some of the biggest names in the industry. This feature is one of the many stand-out benefits of REC solar panels in a country such as Australia where temperatures are often above 25C.
REC modules also feature positive watt class rating, meaning the nameplate wattage is the absolute minimum. REC modules can be up to 5 watts more than the rated power.
A multi-award winning company, REC has also been a top-5 performer in the SVTC solar scorecard, which ranks manufacturers in relation to environmental responsibility. The company also won an IAIR Award for "Best Solar Company for Sustainability" two years in a row (2014 & 2015).
REC solar panels feature in Energy Matters Premium and Platinum range of solar power systems. Energy Matters introduced the panels to the Australian market in 2010 and became the Asia Pacific's first REC Platinum Partner. Due to our standing with REC, we are able to offer our retail customers extended warranty (12 years in total) at no extra cost.
REC Solar Panel Enquiries
Energy Matters can supply REC solar panels to residential and commercial customers as part of full systems.  We also supply REC modules to installers throughout Australia via our wholesale distribution channel.