THIS OFFER IS NOW CLOSED: So you have already invested in solar power, or perhaps right now you're giving it serious thought. Either way you can now own a part of the first energy retailer that really wants you to get the best out of your solar investment.
DC Power Co. is all about saving you money, using less energy from the grid and more from your solar, and reducing your power bills.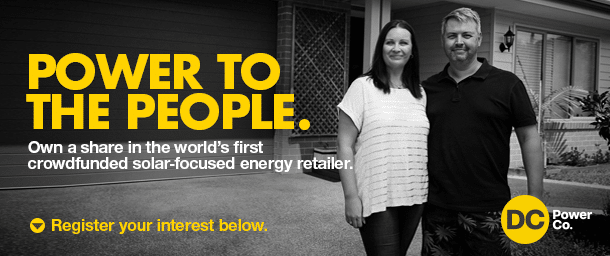 The energy market is undergoing a major disruption at the moment, you could call it a revolution. Australia has the highest uptake of solar energy in the world at 20%, with predictions to be up to 45% by 2050. It's a market set to explode in growth.
To take advantage of this, DC Power Co. is launching an exciting equity crowdsource-funded campaign, and it's looking for people just like you to help build the energy company of the future.
For only $50 you can own a share in DC Power Co., which means you get a say in how the company is built, you can share in future profits, and get maximum value out of your solar panels.
What better way to build a customer-centric company than to ensure the needs of the client are the needs of the shareholder?
Want to be the first to know when this offer goes live? Register your details below and DC Power Co. will keep you updated all the way.
Don't have solar yet but want to get involved? Give the team at Energy Matters a call on 133 786 for a tailored quote.
We believe that it is time that people with solar took the power back from the electricity companies and so we want to share this exciting development with you. However, please note that Energy Matters is not affiliated with DC Power Co. and no statements made by Energy Matters are to be construed as investment advice or recommendations.
In deciding whether to invest in DC Power Co., you should carefully consider the DC Power Co. offer document that will be available from DC Power Co., make your own enquiries and seek independent investment and legal advice.
Register your interest in DC Power here