The new Australian Embassy in Jakarta, Indonesia, which features solar technology, was opened yesterday by Foreign Minister Julie Bishop.
According to the Department of Foreign Affairs and Trade (DFAT), it's the largest embassy ever constructed by an Australian Government; incorporating a five-storey Chancery, staff accommodation, and a recreation and medical centre. The compound covers 50,000 square metres.
Among its green features are a living rooftop, rainwater harvesting, energy efficient air-conditioning and a number of solar hot water systems.
"The Embassy showcases the best in Australian innovative design and cutting edge technology to make the most out of the Indonesia's environment while minimising the impact on local water and energy sources," said Australian Ambassador to Indonesia Paul Grigson.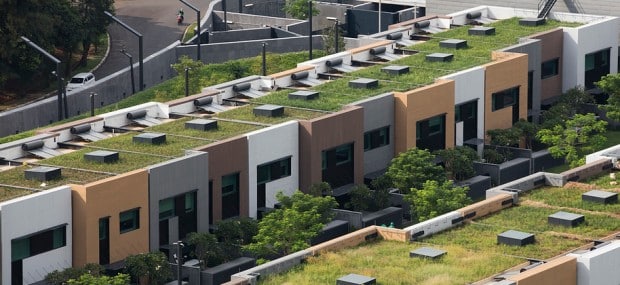 Part of the project included the relocation of  four huge Banyan trees; an exercise that was largest of its kind ever undertaken and recognised by the Indonesian Guinness Book of Records.
The facility was built tough. According to an ABC report, the compound can withstand a one in 2,500-year earthquake and can move 600 millimetres in any direction.
The design of the new Embassy chancery was created by Australian architects Denton Corker Marshall and engineers Aurecon Australia.
Up to 2,500 Indonesian workers were employed on the site, providing a significant boost to local employment.
Construction of the new embassy, which commenced in 2012, cost $415 million; which is apparently the most the Australian government has spent on a building complex outside our shores.
"The new Australian Embassy complex is not only a tribute to Australian creative design and innovation, but it is also a tangible example of a very successful Australian-Indonesian construction partnership," Mr Grigson said.
Indonesia is the world's third largest democracy, has the world's largest Muslim population and is one of Australia's most important bilateral relationships.
Australian exports to Indonesia in 2014-15 were valued at AUD $5.628 billion and imports at $5.34 billion. In 2014, Australia was Indonesia's 9th largest import source.
While in Indonesia, Foreign Minister Bishop is also meeting with her Indonesian counterpart, Foreign Minister Retno Marsudi, and other senior ministers to boost Australia's political, trade and investment engagement with the country.