Virtual Power Plants or VPPs are a relatively new concept in Australia, but they are quickly gaining popularity due to the benefits they offer participants, communities and the environment. The ultimate goal of a VPP is to reduce reliance on fossil fuels by enabling more renewable energy sources to be integrated into our energy network.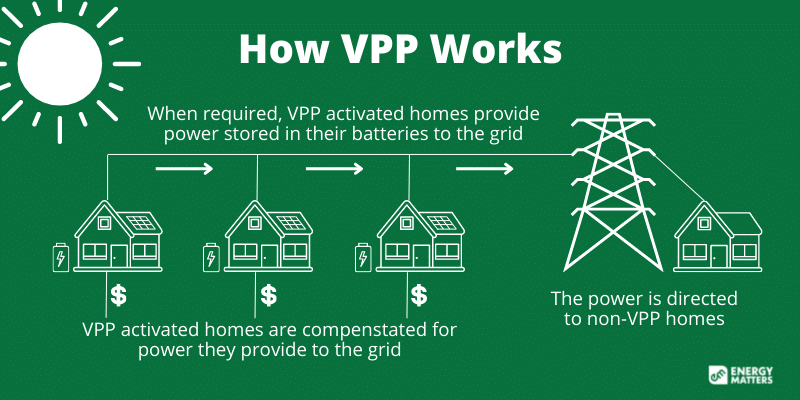 So how does a VPP work? Essentially, it is a network of home batteries connected through smart technology that can be controlled and coordinated like a pop-up power plant. The collective power of the VPP can then be used to provide electricity to the grid during peak demand periods, or when there is a shortage of traditional power.
If you choose to register for a VPP, your battery supports other homes with clean energy and you're incentivised for participation.
Compare the best VPP Offers in Australia
As the number of VPPs increase in Australia, so do the number of options and offers available to consumers. With a range of VPPs now operational across the country, each with their own distinct benefits, eligibility requirements, program structure and contract details, it can be difficult to determine which one is best suited for your needs.
To assist you in determining the best VPP for your home or business, we have put together a comparison table outlining the key features of the various VPP programs available in each state.
Key Features to Consider when Comparing Virtual Power Plant Programs:
The eligibility requirements for participation in the VPP program, including the location, retailer, approved batteries, solar capacities, etc.
The benefits of the VPP program, i.e. battery subsidy, bill credits, VPP-specific feed-in tariffs, etc.
Contract conditions, i.e. program duration, cancellation policies, exit fees, etc.
How the VPP uses your battery
Whether you can operate your system in standalone mode in the case of a power outage
Whether the VPP reserves a minimum energy storage capacity for your use as the homeowner
If you foresee any changes to your electricity usage over the duration of the contract
What happens to the battery after the contract ends
You can register your interest in a VPP with Energy Matters and we can assist by linking you up with the best offers in your local area.

Alternatively, if you would like to learn more about how VPPs work and the benefits they offer, you can read comprehensive guide on the topic linke below.