Over in Japan, a consortium has dived into action to create solar-powered furniture designed specifically for urban spaces. Functioning as a bench built-in with a battery, these designs also have cooling features and even vaporisers. Nifty.
Japan's urban tree shortage 
According to PV Magazine, the challenges of having such large cities combined with 'concrete jungles' make for the ultimate heated up environment under the sun. 
There's not a whole lot of room or shade to escape the rays with, "all sides of the concrete emanates heat". With high-rise buildings stopping efficient airflow and cars banking the streets with fumes and significant dust, there's suddenly a quality of life problem across the city.
Four companies have joined forces to combat this, with the line up featuring Nikken Sekkei, Meiken Lamwood, Murata Manufacturing and Koei. They united back in 2018 to create the potential Cool Tree Lite prototype. 
The result? Solar-powered zones that provide effective cooling for cities under the pressure of this kind of consistent heat. Acting just like trees, the designs deliver vapour, shade and the ability not to absorb heat through the wood.
How solar trees work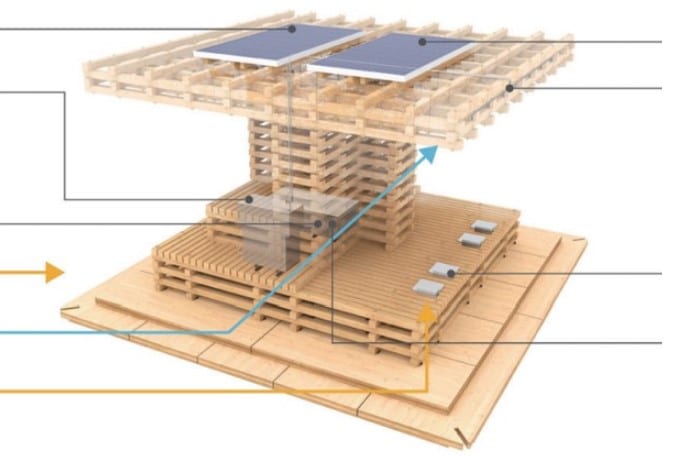 Source: Nikken Sekkei and PV Magazine.
Ultimately, these are "cool spots" and create a sitting area under a large roof. The solar modules are positioned on the top of the design, charging a battery that's neatly concealed at the bottom. This power then fuels the cooling plates around the sitting space. 
But if that's not enough, a refreshing mist makes its way from the roof of the product, spreading water vapour relief. There's also a handy crosshatch that prevents any direct sunlight from entering the area.
Made from cypress wood, Cool Tree Lite uses bolts instead of glue. It can be disassembled (even better) and relocated to other destinations based on the season or weather conditions. This gives councils the ability to utilise them when special events of calendar dates also mean there's a high demand for shade or pedestrian heat relief.
The first system is set to be used from May, located in the heart of Tokyo. At night, pedestrians can even charge their smartphones with the design. And to make all things even sweeter, the system is completely off-grid. There's zero need to find a power source to kick it into gear and the self-sufficient "tree" does its thing without any environmental consequences. 
Cool Tree Lite isn't the only design of its type. Back home in Australia, Specialised Solutions in Adelaide have created their own versions of solar-powered benches. These also provide shade, lighting, internet and charging stations.
These are exciting times ahead.