Australian solar heliostat technology developed by CSIRO will soon be helping China reach its ambitious renewable energy goals.
In an agreement struck between CSIRO and China's Thermal Focus, Thermal focus will be licensed to manufacture, market, sell and install CSIRO's low cost heliostats and related design and control software in China.
The licensing agreement will be announced today at the Asia-Pacific Solar Research Conference, being held at the Australian National University.
A heliostat is a special mirror, often computer controlled, that reflects and concentrates sunlight onto a central receiver situated on top of a tower. The focused solar energy can be used to heat and store hot molten salt, which is used to generate steam to drive a turbine for electricity generation. The molten salt acts as a battery, enabling solar power generation when conditions aren't favourable and during the night.
CSIRO's  heliostat design has a smaller footprint than conventional heliostats and uses an advanced control system to maximise the amount of power that can be generated. As up to 40 per cent of total concentrating solar thermal (CST) plant cost is the heliostat field, low cost and high-efficiency heliostats are a sought-after product.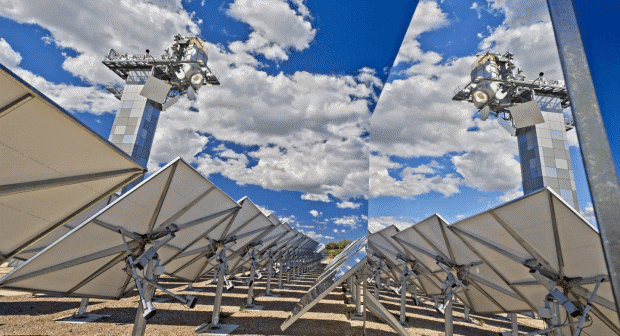 "Australia is a leader in clean energy technology and CSIRO's partnership with China's Thermal Focus takes our climate mitigation focus to a global stage," said CSIRO Chief Executive Dr Larry Marshall.
"Through this collaboration and our continued solar research, we will be helping to generate cleaner energy, cost savings and technology export benefits for Australia; all lowering global greenhouse gas emissions."
China recently announced a goal of 1.4 GW of CST capacity by 2018 and 5 GW by 2020, doubling the world's installed CST plants.
"CSIRO's solar thermal technology combined with our manufacturing capability will help expedite and deliver solar thermal as an important source of renewable energy in China," said Mr Wei Zhu from Thermal Focus.
Among other successful partnerships the CSIRO has established relating to CST is one with Heliostat SA; a South Australian company.
In 2014, CSIRO received Australian Renewable Energy Agency (ARENA) funding to support the development of an improved heliostat mirror for central-tower solar thermal installations.
Source/image source: CSIRO