CSIRO's Discovery Centre at Black Mountain, Canberra last week took delivery of the first two of ten electric cars, plus a couple more electric bikes – and they'll all be powered by the sun.
The latest vehicles join the 36 electric/petrol hybrid cars added to CSIRO Fleet in 2015 to replace petrol-only vehicles.
"The cars and electric bikes are the latest in a raft of initiatives to lower emissions, reduce waste and improve the sustainability of operations across CSIRO," said CSIRO General Manager, Building and Infrastructure Services, Mark Wallis.
"As our scientists continue to lead the way in many aspects of alternative energy, emissions and waste reduction, and water and energy efficiency technology – we also want to be an organisation that puts those same things into action across our sites and operations."
The cars will be recharged using solar power systems, with the aim of making them truly-emissions free. This will also create significant savings for the organisation; which has been hit with a number of budget cuts.
"The money saved or earned can be reinvested into national science priorities," said Mr. Wallis.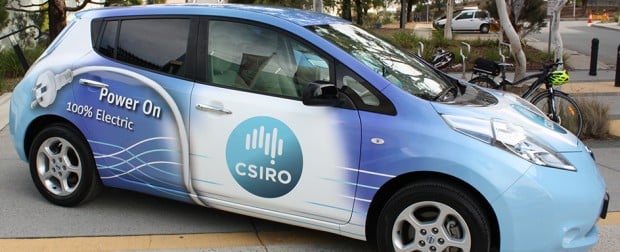 Other CSIRO locations to take delivery of new electric cars shortly include Melbourne, Brisbane, Hobart, Perth, Townsville and Newcastle.
The CSIRO has been increasingly embracing solar power. Some of its installations include a 100kW PV rooftop at the Australian Resources Research Centre in Perth; a 260 kW solar panel array at its Newcastle site in New South Wales and a 120kW solar power system at the joint venture Pawsey (supercomputer) Centre in Perth.
As well as acquiring electric cars, CSIRO has been involved with developing EV/HEV related technology.
We reported in 2010 the organisation was developing the UltraBattery, which combines a lead-acid battery and a supercapacitor. Work continued on with the project and UltraBattery is being used by Honda in its new Odyssey hybrid model.  According to CSIRO, UltraBattery is about 70 per cent cheaper to make than other batteries with comparable performance and can be manufactured using existing production facilities.
CSIRO has a page on its web site outlining the organisation's work in low emissions vehicle technology.