Is this solar powered monster on wheels green? Heck no. Is it impressive? Hell yes.
Custom built EarthRoamer Xpedition Vehicles take off-road campers to a whole new level of capability and luxury.
The EarthRoamer XV-LT is a four wheel drive, turbo diesel powered truck based on a Ford F-550 with a 6.8 L V10 engine boasting 310 horsepower.
It has an 8845 kilogram gross vehicle weight rating and up to 5.6 tonne towing capacity. This vehicle was made to be ladened. Its makers say  the F-550 can carry 127% of its own weight.
The crew cab stretch version (XV-LTS) is 8.5 metres long with a wheelbase of just over 5 metres.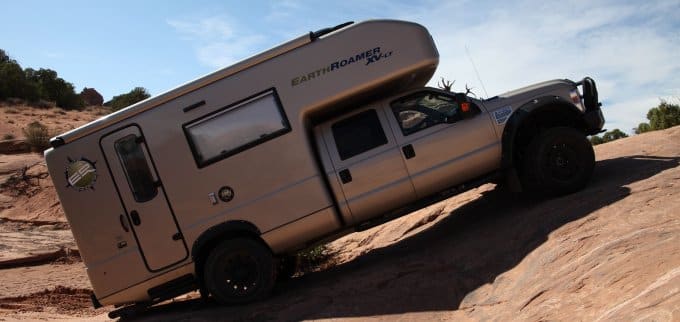 Even the tires are huge – the stock 32 inch diameter, 6 inch wide 10 ply tires are replaced with 37 inch diameter, 12 inch wide 22 ply tires; or optional 41 inch diameter, 12 inch wide, 22 ply military tires.
In addition to its striking looks externally, the inside isn't too shabby either and features more than enough bells and buzzers to turn camping into "glamping" – and glamping on crack at that.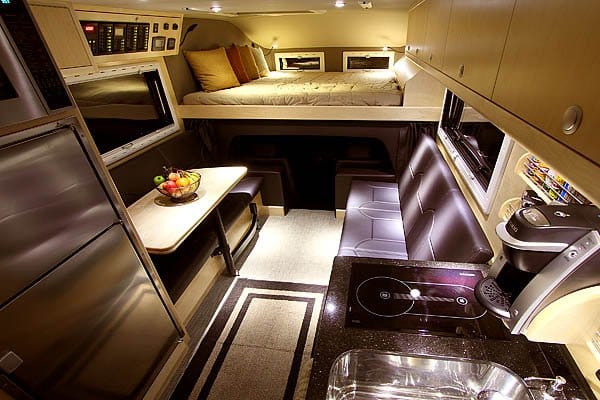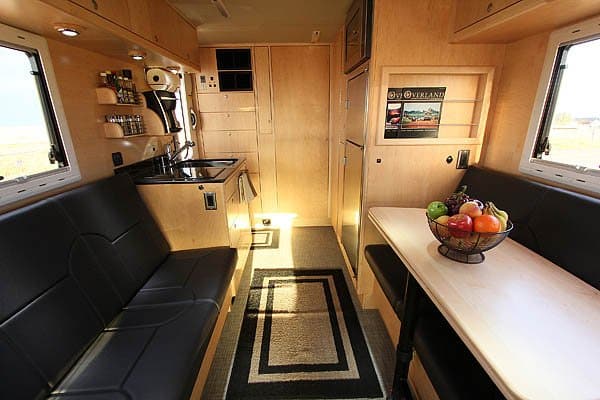 While this beast of a machine couldn't be called green when viewed purely as a recreational camper; it does have some impressive green features.
To power appliances, a 660 watt solar panel system and a 6.3 kWh absorbed glass matt (AGM) battery bank is included as standard. However, with the larger roof area of the XV-LT stretch models, up to a massive 1.1 kilowatts capacity of solar panels can be provided. The deep cycle battery system can also be upgraded to 12.6 kWh.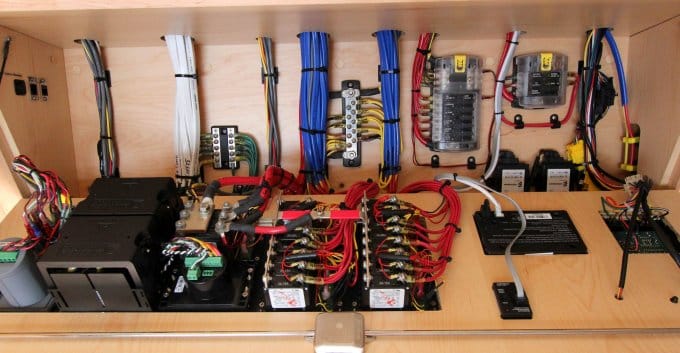 Noisy, smelly generators are also a thing of the past. The EarthRoamer team order their Ford F-550's with the dual alternator option which provides a fuel efficient 3.7 kWh generator.
"We install an advanced battery isolation system and connect the factory alternators using low resistance, #4/0 tinned copper marine cable to the massive absorbed glass mat (AGM) camper battery bank," states the EarthRoamer web site.
"Whenever driving or the engine is idling, the AGM battery bank is being charged by the high output dual engine alternators. At idle, the Power Stroke diesel burns approximately .5 gallons of diesel per hour which is significantly less than many RV generators at full load."
Fuel economy of the EarthRoamer on the road isn't clear, but it's probably a case where if a potential owner feels the need to ask that, they probably can't afford it anyway. However, a related green point in its favour is that it appears to be able to use biodiesel.
And on the topic of cost…
Be prepared to pay around AUD$600,000 for a top end crew cab EarthRoamer XV-LTS fully decked out. Thankfully, winning SA Lotteries' $30 million XLotto Megadraw this weekend will cover it, plus provide a bit of fuel money – so be sure to get your ticket today.
The EarthRoamer's size won't end with the XV-LTS. In 2015, the XV-HD will be released; based on a Ford F-650 and a whopping 11.2 metres long.