The sight of solar panels on a rooftop mightn't generally capture as much attention as it once did, but this installation certainly does.
Designed and installed by Scotland's Sustainable Renewable Technologies (SRT), the 48.25 kW installation provides 85% of the power used by the pyramid-shaped headquarters of Survey Solutions at Bilston Glen, Loanhead, Edinburgh.
According to SRT, other solar companies approached to execute the installation shied away from the project; stating that it could not be done.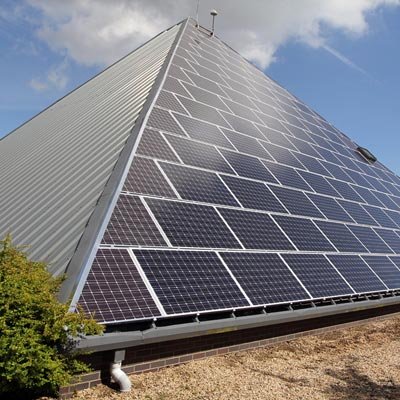 Design of the scaffolding system that would allow the panels to be positioned in place was quite a challenge, but even more so was the clients' requirement that each face of the pyramid to be covered in solar panels must be a perfect triangle. There could be none of the stepping that would otherwise be seen with square solar cells of the cut-down panels along edges.
To achieve the "perfect triangle" effect wasn't so much a case of high-tech wizardry, but more design ingenuity – the panels along the edge are dummies and do not generate power.
The 193 panel array will provide a benefit to the building's owners of around AUD$17,000 annually and avoid the creation of around 36 tonnes of carbon dioxide emissions each year.
The system was installed in July 2012 and has been nominated for this year's Solar Power Portal Awards, which recognises good practice, professionalism, quality, safety and innovation in the UK's solar industry.
The SRT installation is unsurprisingly in the "Most Innovative System Design," category. Also not surprising is the comment from Tom King, SRT's managing director, who said the installation was the most challenging project he has planned so far.
We imagine the project has resulted in all sorts of weird and wonderful design requests for Mr. King and his team.