It won't be long before the much-anticipated Enphase AC Battery arrives in Australia – and demand for the modular energy storage solution is already very strong.
Now available on pre-order as a retrofit or part as a full solar + storage solution from Energy Matters, the Enphase AC Battery offers 1.2kWh storage capacity (95% usable) and is designed to make adding more batteries as required a breeze.
The battery system is very well suited to new and existing solar owners who want to get more from their PV arrays; but wish to start out small with a modular battery system and then build on capacity at a later date.
Featuring a clean, modern design, the Enphase AC battery is designed for indoor use. The wall mounted unit is lightweight, quick to install and occupies minimal wall space.
Accompanying the AC Battery is a very generous warranty – 10 years based on 2 full daily cycles.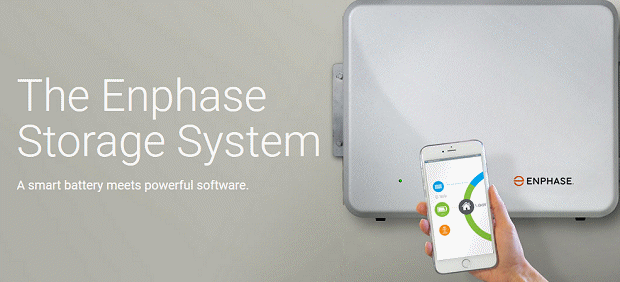 While not required, the Enphase energy storage solution is also optimized for operation with Enphase microinverters. A microinverter is a small component that attaches to the back of a solar panel and does away with the concept of a single solar inverter as found in conventional solar power systems.
The use of microinverters significantly reduces the potential for system failure and offers the added advantage of harvesting the maximum amount of energy produced by each solar panel; as well as panel level monitoring. To date, more than 10 million Enphase microinverters have shipped globally.
Also part of Enphase's suite of energy storage products is Envoy S-Metered. This component communicates with Enphase's Enlighten monitoring software used for tracking energy production, storage and consumption; displaying that information via a very friendly web-based user interface.
To celebrate that arrival of Enphase AC Battery, Energy Matters is offering special pre-order deals for a limited time on full Enphase-based solar + storage packages and retrofits.
Pre-orders for AC Battery have been higher than anticipated according to Enphase, so Australians wishing to be among the first in the world to have the battery installed might want to act sooner rather than later.
Energy Matters, currently celebrating its 10th year, has been installing battery systems across the nation for almost a decade. The Energy Matters team has the skills and experience necessary to design and install Enphase systems to ensure optimal performance.
First shipments of Enphase AC Battery are expected to arrive in Australia in August.
Australia has become a favoured market for energy storage manufacturers to launch their storage products due to our high uptake of solar panels and Australia's comparatively high electricity costs.
Households with low electricity consumption can reduce their mains grid reliance by up to 80% with a solar + storage system.