The UK's United Utilities is building a floating solar farm that will generate 2,700 megawatt-hours of electricity each year.
Godley reservoir in Hyde, Greater Manchester, is the site of the 3MW installation that will see 12,000 solar panels on 30,000 floats installed by the end of this year.
"We have a target to generate 35 per cent of our power requirements by 2020 and this project will make a significant contribution to that aim," said Chris Stubbs, head of renewable energy at United Utilities.
"As part of United Utilities' energy strategy to generate more power, we identified the Godley reservoir as a suitable site to install a floating solar array to provide the water treatment works with approximately 33 per cent of its energy requirements."
The system will help insulate United Utilities from increased power prices, enabling the company to keep water prices down.
The £3.5m project will cover 45,500 square metres of the reservoir.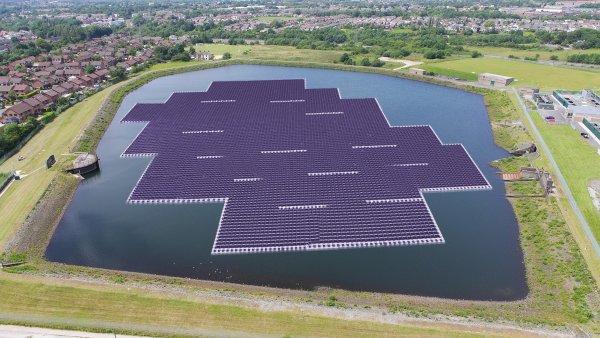 United says the Godley installation will be far larger than the only other floating solar site in the UK, a 800-panel pilot project in Berkshire. It appears the Godley system will also be the largest of its type in Europe.
The aquatic PV array will be second biggest in the world after a scheme in Japan according to United.
However, both these projects may be dwarfed by an even larger aquatic solar project soon. In March this year, Brazil's Energy Minister announced plans for a massive 350MW floating solar farm project at the Balbina hydroelectric plant in the Amazon.
Floating solar has been popping up all over the world, including Australia where a facility has been constructed in Jamestown in South Australia's mid-north region.
Floating solar power stations have some advantages over terrestrial based systems; such as the water below helping to keep the solar panels cool, boosting conversion efficiency. Other benefits floating PV arrays provide include reducing water evaporation and inhibiting the growth of algae – making them an interesting proposition for Australian farmers for use on farm dams.
Floating solar has also been of special interest in countries where land may be at a premium.