The wait is over – Australians wanting to be among the first to acquire a revolutionary Tesla Energy Powerwall home battery system can now pre-order via Energy Matters.
Energy Matters' parent company, SunEdison Australia, has been granted official Tesla Energy Authorized Reseller status; one of the first companies in the nation to achieve this standing.
SunEdison Australia's status as an Authorized Reseller further establishes their commitment to provide a great level of customer support through highly qualified and trained technical staff.
As a Tesla Energy Authorized Reseller , SunEdison Australia will also be authorized to supply Tesla Energy Powerwall to other Australian solar companies and resellers.
SunEdison has been involved with the design, supply and installation of home battery systems in Australia since 2006. The company will commence installing a limited number of Powerwalls early next year and a steady supply of units is expected from March/April 2016.
Pre-ordering for priority installation is now available with a fully-refundable deposit; with battery systems to be installed in the order of deposits received.
Tesla Powerwall is a next-generation 6.4kWh wall mounted, rechargeable lithium ion battery incorporating a battery management system with a smart DC-DC converter.
For larger storage requirements, installations of multiple Powerwall batteries are expected to be available later in 2016.
The Tesla Powerwall weighs 100 kg and measures 1300 mm x 860 mm x 180 mm; including the innovative and stylish enclosure that enables indoor or outdoor installation.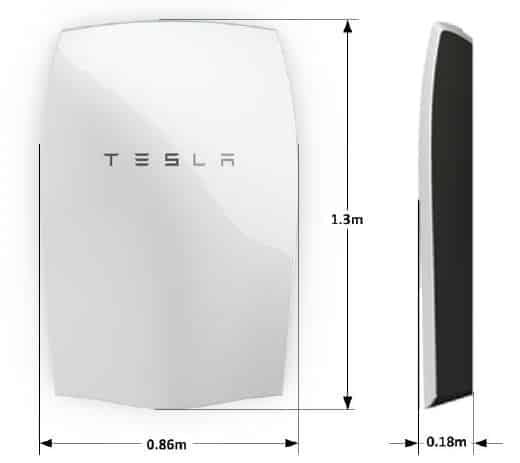 Powerwall's pedigree includes Tesla's proven automotive battery technology. It offers optimal efficiency to power a home safely and economically and is backed by a solid 10-year warranty.
As SunEdison Australia is also a national SolarEdge distributor, the company can offer fully compatible solar + storage solutions with Powerwall at competitive prices.
To celebrate the arrival of Tesla Powerwall, SunEdison Australia is currently offering special cashback offers on full solar + storage systems and upgrades.
SunEdison is also offering other discounts on battery-ready systems for Australians wanting to start saving on power bills now; with view to adding a battery system at a later date.
Demand for Tesla Powerwall is expected to be very high and its much-anticipated arrival heralds the dawn of Australia's residential energy storage revolution.
According to a recent survey, 81% of Australians who have installed or are considering installing solar power systems are also contemplating home energy storage.
"Installing a Tesla Powerwall means our customers will be able to make better use of their rooftop solar power systems, storing the high-value electricity they generate for self-consumption," said Nicolas Kesten, SunEdison Australia's Head of Strategic Marketing.
"In addition to having a cutting-edge home battery system, by buying a Tesla Powerwall from SunEdison Australia, purchasers will have the installation expertise, backing and support of the world's largest renewable energy developer."
For further details on purchasing the Tesla Powerwall from SunEdison Australia, they may be contacted on 1800-EMATTERS (133-768). For those ready to proceed with securing a full Tesla Powerwall storage system and being among the first on the priority list, a fully-refundable deposit can be made here.