Queensland's clean energy pipeline could deliver 90 per cent renewable power if the government gives its full support, a new report  claims.
The state's wind and solar power industries are booming. However, a further 69 renewable projects may not go ahead, according to the 'Renewable Energy across Queensland's Regions' report.
Green Energy Markets produced the analysis, which was commissioned by non-profit organisation Solar Citizens.
Strong government policy needed to drive renewable power

It found if all planned projects go ahead, they would generate around 14,867 MW of power, 33,975 construction jobs and 1,562 ongoing full-time jobs.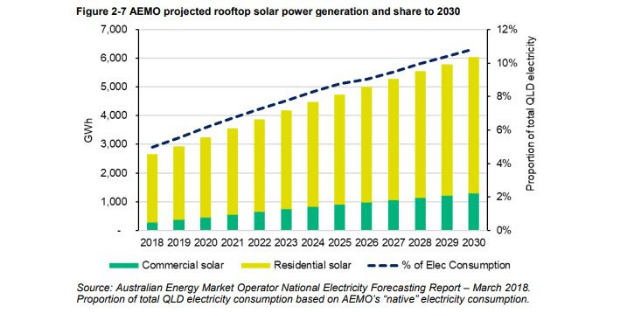 However, the projects' approval could depend on whether the government revamps its energy policy, says Green Energy Markets analyst Tristan Edis.
The report also details the extraordinary growth of renewable energy across Queensland including large-scale wind and solar installations.
New government policy could also reduce electricity emissions further, Edis claims. "Strong, consistent and ongoing policy support for renewables" is therefore essential.
Since 2015 the state's renewable project investment totals $4.2 billion, the report states. The sector would generate six times more jobs and yield economic benefits on completion of all pending projects.
90 per cent renewable energy in world class state
Queensland is already setting world class renewable benchmarks.
Energy generation at Queensland's wind and solar farms is 20 to 50 per cent higher than global equivalents.
The rooftop solar boom now has 550,000 solar panel systems in Queensland. These support around 1,200 full-time jobs.
Queensland homes are saving an average of $720 on annual electricity bills. Business savings clock in at $3,000. This equals $414 million savings state-wide.
One quarter of Queensland's electricity will be renewable by 2020.
Queensland boasts outstanding natural resources for wind, solar and hydro power generation. Yet it could still fail to reach its target of 50 per cent renewables by 2030 without a state policy of support.
Government repeats commitment to clean energy
The Queensland Labor government has invested $1.16 billion under the Labor government's 'Powering Queensland Plan'. This is to ensure an "affordable, secure and sustainable" electricity supply.
However, in July the Queensland Energy Minister Dr Anthony Lynham claimed there were no immediate plans to close the state's coal-fired power stations.
An "orderly transition" from fossil fuels to clean energy is essential, he said.