Are you a QLD homeowner looking for solar?
With an abundance of sunshine, QLD is a solar powerhouse offering some of the highest solar energy yields in the country. With QLD's high retail electricity prices, solar is a particularly great investment.
The cost of solar panels have fallen dramatically over the last decade – in fact, solar is considerably cheaper in QLD than in most other states and territories. But what about government rebates and incentives? After all, any extra money in your pocket can only be a good thing.
In this article, we've compiled and explained the current QLD rebates and incentives available on Federal and state levels for solar products and battery storage systems.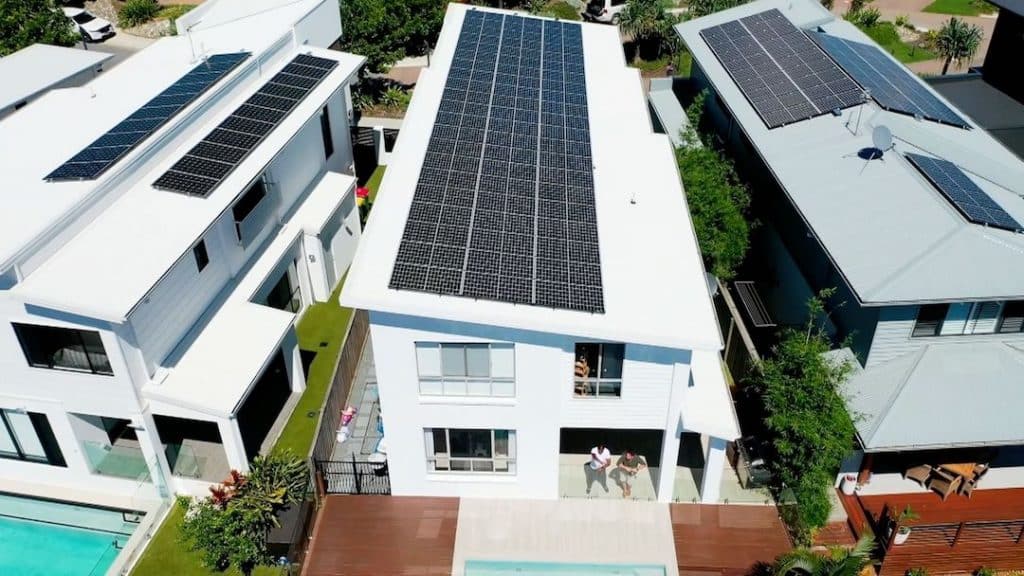 Federal incentives: residential and small businesses
Households and small businesses across Australia that install a small-scale renewable energy system (solar, wind, or hydro) or eligible hot water system may be able to receive a benefit under the Small-scale Renewable Energy Scheme (SRES) to help with the upfront purchase cost.
Installation of an eligible system allows for the creation of Small-scale Technology Certificates (STCs) with a value that may be traded or assigned away. The number of STCs created is determined by the following factors:
the amount of renewable electricity the system produces or the amount of electricity consumption it reduces
the climate region where it's installed.
Sunnier conditions, such as those found in Queensland, allow for more productive solar panels. This implies you'll receive more STCs for kilowatt capacity.
Eligibility
Small-scale renewable systems that may be eligible for certificates include:
solar photovoltaic (PV) panels
wind turbines
hydro systems
solar water heaters, and
air source heat pumps.
To be eligible for STCs, you will also need to follow guidelines that will not only make you eligible but also ensure that your system is compliant and installed to industry standards. For instance, solar systems must be installed by an accredited solar installer and must also use approved solar panels and inverters that meet Australian and New Zealand standards.
Energy Matter's can make this easy, with a trusted network of accredited solar installers that only use approved solar components. Receive up to 3, obligation-free quotes. It's fast, free, and takes the hassle out of shopping around.

How do STCs work?
While it may seem complicated, the process of receiving a financial benefit from your STCs is typically straightforward.
Owners have two options for their STCs:
Assigning them to an agent, usually the system installer, in exchange for a discount or delayed cash payment.
Selling the certificates themselves.
Most businesses and homeowners will assign the certificates over to their solar installer in exchange for a discount (often incorrectly referred to as a "rebate").
If you do decide to sell the certificates yourself, you have two options:
Through the open STCs market with pricing subject to market forces. At the time of writing (October 2021), the average spot-trading price of an unregistered STC is $36.50, while a registered STC is $38.50.
Through the STCs Clearing House (operated by the Clean Energy Regulator) with the price fixed at $40 per STC, excluding GST.
While the STCs Clearing House will usually offer a better price than the open market, It is important to note that the certificates are placed in a queue, and sold on a first in – first out basis, which means there is no guarantee on how long the small-scale technology certificates will take to sell.
At the time of writing, the Clearing House is in surplus to the sum of 356,143 STCs, which indicates there are more buyers than sellers. Buyers are usually enterprises looking to offset their carbon emissions.
QLD state rebates and incentives: solar
There are no QLD state government level rebates for solar systems at the time of writing.
There is, however, a Feed-in Tariff (FiT) that you may receive from your energy retailer. The FiT is the retail rate that you will receive for the electricity generated by your system that is fed back into the grid.
In QLD, the rules for FiTs vary depending on where you live:
At the time of writing, Regional QLD has a minimum FiT of 6.583 cents/kWh
There is no minimum FiT for South East QLD (on the Energex network in the Brisbane area), but most electricity providers offer between 10-18 cents/kWh
While these rates may seem low, particularly compared to the FiT (44 cents/kWh) that was offered under the now discontinued Queensland Solar Bonus Scheme, the true value you will receive from your solar is through self-consumption (which you can read all about here).
To ensure you are receiving the best FiT possible, it's important to shop around and switch energy retailers if necessary at least every 6 months. Energy Matters' fast and free energy comparison tool targets competitive deals in your postcode area, and compares against your current energy bill.

Keep in mind that the highest feed-in tariff rate is not necessarily the best. In many case, energy retailers give with one hand and take with another; so they pay a lot more for your fed-in electricity, but they'll also charge you a lot more if you want to buy electricity.
QLD state rebates and incentives: solar battery storage
Unfortunately, there are no QLD state government-level (or Federal) rebates for battery storage systems at the time of writing.
While solar batteries are still quite expensive, they offer many benefits beyond a financial return, including:
As FiTs continue to fall, more Australians are turning to batteries.

Batteries will also become increasingly attractive as many Australians invest in an Electric Vehicle (EV) in the next couple of years. In June this year, the QLD Government announced the development of a new QLD Zero Emission Vehicle (ZEV) Strategy that explores cost-effective programs to support the uptake of electric vehicles.
The current QLD incentive for EVs is reduced stamp duty: $2 per $100 up to $100,000, and $4 per $100 value thereafter (compared to up to $6 per $100 for more polluting vehicles).
Keep up-to-date on QLD solar rebates and incentives
Both Federal and state governments are subject to reviewing and introducing new rebates and incentives for solar systems and battery storage.
Our dedicated QLD State Information Page will keep you informed of the latest news on everything from rebates and incentives, to exclusive special offers and deals through our network of solar partners.
Energy Matters has assisted over 30,000 Australians in their transition to clean energy. We can guide you toward a solar and/or battery storage solution that fits your lifestyle and budget. Receive up to 3, obligation-free quotes from our trusted network of accredited solar installers. It's fast, free, and takes the hassle out of shopping around.