Will the Sion be the solar powered car for everyone? Germany's Sono Motors believes its electric vehicles, which will also act as mobile energy storage, will be.
Sono Motors GmbH is developing two models of solar assisted electric vehicles – the Sion Urban (~AUD $18,000), which has a range of 120 km, and the Sion Extender (~AUD $24,000), with a 30kWh battery and 250 km range.
Both vehicles have solar panels that Sion says will provide 30km of "free" driving a day (assuming sufficient light exposure).
The pricing seems pretty cheap and there's a good reason for that – it doesn't include the battery pack. The battery pack will be available under a rental model or outright purchase, but prices are yet to be announced.
The battery of the Extender can be charged up to 80% in 30 minutes; good for 200 kilometres.
The roof, bonnet, rear and sides of the vehicle are embedded with monocrystalline silicon cells encapsulated in an 8 mm thick layer of polycarbonate. Combined, the solar panels have a surface area of 7.5 m², a peak capacity 1,144 Watts at an efficiency of 22%.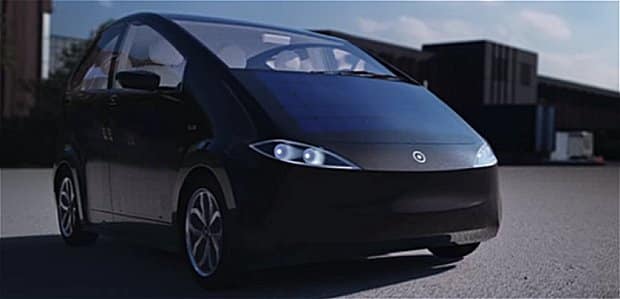 The Sion has also has a bidirectional charging system, meaning the vehicles can be used as "mobile storage". When used for general energy storage applications, a power output of up to 2kW is available.
Another interesting aspect of the Sion vehicles is the air filtering system. The air vents are lined with live moss (cladonia rangiferina), sustainably source from Iceland. The natural air conditioner doesn't require care, drawing what it needs to survive from the air, and cleaning/dehumidifying it in the process. Additionally, the moss acts as a sound-deadener and fire retardant.
Sono Motors also intend making Sion servicing and repairs a breeze, with videos to be developed covering various aspects of replacing parts and servicing available to all customers, along with a full workshop manual accompanying each vehicle.
The Sono Motors team is aiming for the car to be available in Australia, with test-drives of the prototype to occur next year – assuming pre-order levels reach at least 50.
The crowdfunding campaign to finance prototypes has already reached its goal, but funds are still being accumulated. By pre-ordering one of the vehicles and paying in full; a 12% discount off the prices mentioned above is available. While the battery pricing issue needs to be kept in mind, each pre-order in non-binding. However, the usual risks associated with crowdfunding should be considered.