New Zealand electricity consumers could collectively save billions of dollars through the benefits of PV and storage – and not just those with solar panels.
A new report released by the Sustainable Electricity Association of New Zealand (SEANZ) finds there is a huge potential for the clean energy technology, if it is allowed to strut its stuff.
"By 2040 New Zealand solar households could have saved between $NZ 1.35 – 3.4 billion but the benefits are not restricted to just solar owners," said Dr Rob Passey of IT Power Australia; lead author of the report.
Solar and energy storage will lower peak demand and associated network costs, reduce costs associated with greenhouse gas emissions, slash wholesale electricity prices and also help reduce line losses through electricity being consumed close to the point of generation. Additionally, PV with battery backup could provide emergency power in blackouts.
The conditions needed for solar + energy storage to achieve its potential don't involve massive government handouts; rather a removal of obstacles.
The NZ Electricity Authority has previously been accused of attempting to "kill solar power"; sparking outrage among the technology's supporters. As a form of protest, 45,000 paper suns, each with a related petition signatory, were delivered to the Electricity Authority's office in Wellington late last month.
"The benefits for New Zealand were clear, yet the regulator and some of the incumbent electricity industry are actively trying to stall the uptake of solar with misinformation and the introduction of a solar tax," said SEANZ Chairman Brendan Winitana.
Mr Winitana states the report shows there's not only zero economic justification for a penalty on solar households, but it would also be counterproductive to all electricity consumers.
According to the report, total installed capacity of solar PV in New Zealand has rapidly increased in the last five years, jumping nine-fold in the period 2012 to 2016. Home solar power  made up 78% of capacity installed in 2016, followed by commercial solar.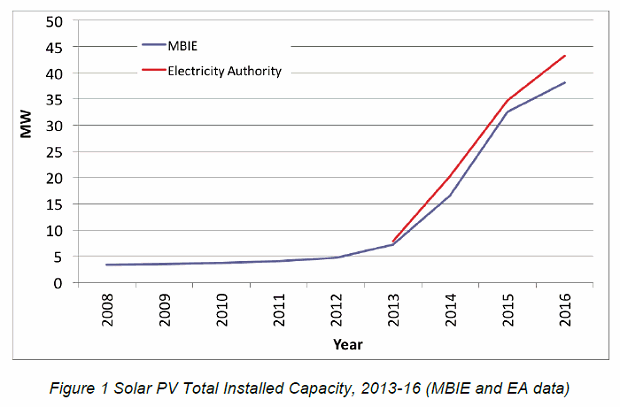 Residential PV owners in New Zealand have been enjoying significant savings on their electricity costs. During the four years ending 2016, solar households are estimated to have reduced their electricity bills by around $647 per year on average.
Hundreds of grid-connected solar battery systems have been installed to date in New Zealand, and as will be the case across the ditch in Australia, interest is expected to increase next year.
The report, Solar PV And Batteries In New Zealand – Consumer-centric Electricity, can be viewed in full here (PDF).
Image Credit: BigStock